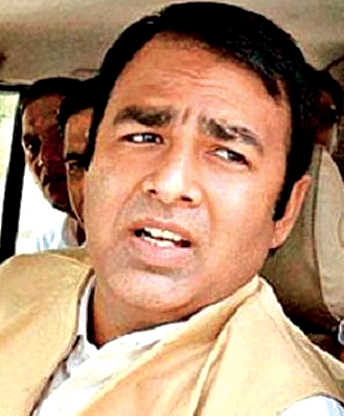 Lucknow, October 16
Describing Taj Mahal as a "blot on Indian culture", BJP MLA Sangeet Som today claimed the person who built it had imprisoned his own father.
Addressing a gathering at Sisoli village after inaugurating a statue of eighth century king Anangpal Singh Tomar, Som not only pushed forward his divisive agenda but also exposed his ignorance of history by confusing Shah Jahan with Aurangzeb.
(Follow The Tribune on Facebook; and Twitter @thetribunechd)
He said many people were worried at the Taj Mahal being removed from the list of historical monuments in UP's Tourism Department booklet, but the Yogi government was correcting a historical wrong by removing the "kalank kathas" (sullied stories) of Akbar, Babar and Aurangzeb from school textbooks. "Lives and achievements of the 'real great men' of the country like Ram, Krishna, Maharana Pratap and Shivaji should be taught in schools and colleges," he said.
Urging for support to state government's endeavour of removing names of traitors from history books, Som virtually endorsed CM Yogi who had said the Taj Mahal did not reflect Indian culture and had objected to foreign dignitaries being given a replica of the monument.
Later in the day, the state government issued a press note saying tourism projects worth Rs 370 crore were proposed in the state under which schemes worth Rs 156 crore was meant for the Taj Mahal and its surrounding areas.
Sangeet Som is an accused in the Muzaffarnagar communal violence. He also made provocative statements in Dadri after the lynching of Mohammad Akhlaq in September 2015. — TNS
Top News
The action came day after CBI arrested businessman Vijay Nai...
There have been allegations from various quarters about the ...
US visa services are trying to clear a backlog after Washing...
May be dropped if found guilty