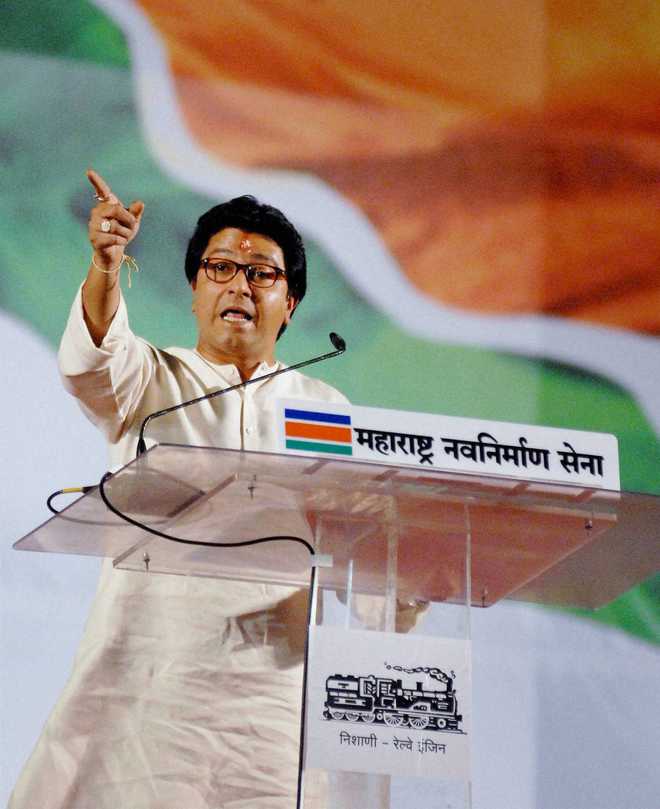 uttara@tribuneindia.com
Shiv Kumar
Tribune News Service
Mumbai, August 20
Leaders of the Maharashtra Navnirman Sena (MNS) have warned of trouble on Thursday when its leader Raj Thackeray is due for appearing at the offices of the Enforcement Directorate for questioning.
MNS leaders said that the party's workers and supporters will come out in large numbers to accompany Thackeray when he appears before the ED authorities at their office at Ballard Estate.
"Lakhs of workers and supporters will accompany Raj saheb when he arrives at the ED's office. We do not have any control on what these workers will do. So we are warning people not to leave home unless they have really
important work," MNS leader Sandeep Deshpande told reporters here.
Officially, the MNS said it has not called for a bandh on Thursday. The party called for a shutdown in Thane early today, but the call was withdrawn later in the afternoon.
Apart from Thackeray, the ED has summoned Unmesh Joshi, son of Shiv Sena's Manohar Joshi, in connection with the loans taken by them from the troubled IL&FS group for their construction company named Kohinoor CTNL. The duo were planning to construct buildings in Mumbai and was in the process of building a big tower across the road from the Shiv Sena headquarters in Central Mumbai when the company suffered severe losses.
Thackeray is said to have resigned from the business later. However ED officials have summoned him for questioning regarding his role in obtaining funds for the business from IL&FS.

The opposition parties, including the Congress and the NCP, have accused Prime Minister Narendra Modi's government of a witch-hunt against Thackeray for his campaign against the BJP in the recently concluded Lok Sabha elections.
"The BJP is afraid that Raj Thackeray will create a major impact during the assembly elections. Hence this summons," Deshpande told reporters.
Thackeray had held several audio-visual rallies against Prime Minister Narendra Modi ahead of the Lok Sabha elections. Though the rallies drew huge crowds, it did not impact the BJP-Shiv Sena combine, which had a big win in Maharashtra.