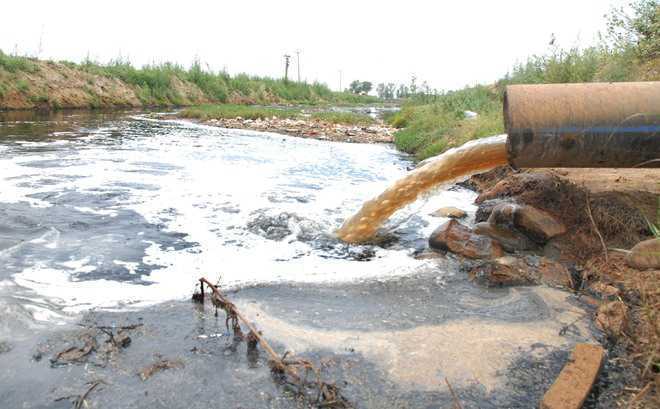 editorial@tribune.com
Ambika Sharma
Tribune News Service
Solan, October 19
An environmental compensation of Rs 1 crore has been levied on a common effluent treatment plant operating at Kenduwal village in the Baddi industrial area by the chairman of the State Pollution Control Board (SPCB) for failing to comply with norms and polluting the Sarsa river.
During a visit to the village on September 9, the monitoring committee of the NGT had detected various irregularities in the functioning of the treatment plant.
The committee had found that the effluents being discharged into the Sarsa river were not meeting the prescribed standards of biological oxygen demand and total dissolved solids. It was found that the act was degrading the quality of the river exorbitantly and was affecting its aquatic life. The committee had recommended monetary penalty with a direction that the money would be utilised for the rejuvenation of the river.
The treatment plant management has also been directed to operate the plant with zero discharge liquid technology within six months and ensure no effluents were left in the river. The plant is also supposed to upgrade to zero liquid discharge.
The chairman of the board has been directed to revoke its consent to operate under the provisions of the Water Act.
All tankers collecting effluents from the industries are supposed to be GPS-enabled and must have connectivity with the state board and the Central Pollution Control Board servers. CCTV cameras must also be installed within 15 days. The online continuous effluent monitoring systems, which were found non-functional when the committee visited the village, is also supposed to be calibrated and made operational within 15 days.
Aditya Negi, SPCB member secretary, said as per the directions of the monitoring committee of the NGT, an environmental compensation of Rs 1 crore had been slapped on the management of the treatment plant. "They have been directed to make due modifications," he said.
The state board has also granted approval for filing a criminal complaint against the plant management for violating the Water Act and Air Act at the Nalagarh court.
The plant was treating the effluents from 435 units, such as textile, food, pharmaceuticals, soap, detergent and metal surface finishing, and as against the designated capacity of 25 million litres per day (MLD), it was treating only 16.8 MLD of effluents.
The notice assumes significance in view of the fact that the Baddi industrial cluster has been rated adverse on the water index by the CPCB, prompting the NGT to direct the state board to tighten noose on the polluting units. This is the first stern action on this plant since it became operational even though slew of irregularities in its functioning have coming to the fore for a long time.