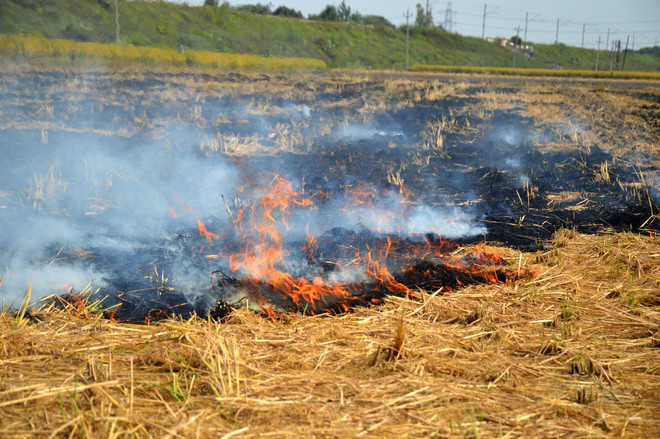 Saurabh Malik
Tribune News Service
Chandigarh, September 18
Taking up the smoldering issue of stubble burning, the Punjab and Haryana High Court on Thursday stayed the recovery of fine imposed on farmers for violating the ban.
Justice Rajiv Narain Raina also issued notice before directing the secretaries of both Punjab and Haryana to discuss the issue with different instrumentalities of the State to come out with a solution.
Justice Raina also issued notice to the agriculture universities of both the States to come out with a solution. The Union Health Secretary was put on notice before being asked to file an affidavit on steps initiated by the Central government to douse the problem.
Justice Raina also made it clear that only the recovery of fine under environment compensation had been stayed. But the State may continue with punitive action. Justice Raina, at the same time, observed in the open court that stubble could be stored at shamlat or forest land, instead of being set on fire. The case will now be treated as petition in public interest.
The directions came on a petition filed by Bharti Kissan Union counsel Charanpal Singh Bagri. As the case came up for resumed hearing, Bagri told the Bench that "people with three-three cars were continuously polluting the environment, while the farmers were being targeted for an activity that did not last for more than 10 to 15 days".
Bagri had earlier sought issuance of directions to the respondents to pay adequate per-acre compensation to the farmers, as orders by the state government had restrained them from burning paddy straw, stubble and residue.
Bagri had added that the farmers burning paddy straw were fined from Rs 2,500 to Rs 15,000. Criminal action was also initiated. Besides, red entry was made in the revenue record. The state policy was, as such, resulting in oppression of the farmers and discouraging them from paddy cultivation. Bagri had submitted paddy straw remained in the field and decayed if it was not burnt.
He also told the Bench that the Punjab and Haryana High Court and the Delhi High Court had laid down guidelines for the state governments to follow to avoid "situation where farmers were not able to carry out agricultural activity".
The Punjab and Haryana High Court had, in fact, directed the state government to take proactive measures by providing affordable and readily available solutions. The intention was to save the farming community and the general public from hazards of straw burning. Certain steps were also suggested.
Top News
Shashi Tharoor will file his papers today and May later with...
With the latest hike, the repo rate or the short-term lendin...
There is a heated argument between MLA Sukhpal Khaira and Sp...
Justice Jaswant Singh of the Orissa High Court has been reco...
Kejriwal, however, does not specify which agency is working ...