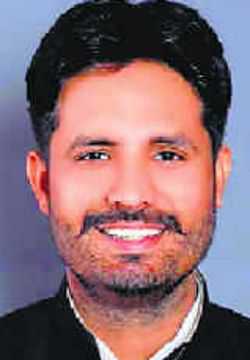 Perneet Singh
Tribune News Service
Bathinda, April 21
A day after being named Congress candidate from the high-profile Bathinda constituency, Gidderbaha MLA Amrinder Singh Raja Warring, who would most likely face SAD's Harsimrat Kaur Badal, today said he wasn't a heavyweight and would not like to be one.
Talking to The Tribune, Warring said, "I am the son of a farmer and I pray to the Almighty to always keep me lightweight. These concepts of heavyweight and lightweight are all about public perception. I only know that I will fight it out against the feudal Badals with all my might. No one can be underestimated in politics. Even the likes of Indira Gandhi have tasted defeat in the electoral politics."
To a query that he is being dubbed as a "sacrificial lamb", he said the people had said the same when he was fielded from Gidderbaha in 2012, but he emerged victorious. He said he was feeling proud that the party had given him a huge responsibility, adding that it was always his desire to take on the Badals.
Warring said the sacrilege of Guru Granth Sahib would be the biggest issue in these elections. "Parkash Singh Badal took people for a ride in the name of Panth for 60 years and it was his family that backstabbed the Panth. They didn't even spare the Guru. Now, people won't fall prey to their politics and that is precisely the reason they are not announcing their candidate from Bathinda," he alleged.
Warring visited Bathinda and met party leaders like Khushbaz Jatana, seeking their support. Replying to a media query, he said none of the party leaders, including former MLA Ajit Inder Singh Mofar, was upset over his nomination. He said he had a word with Mofar who had assured him full support.
Meanwhile, Warring met some senior party leaders, including Finance Minister Manpreet Badal, in Lambi and sought thier support. He also met senior leaders, including former DCC chief Gurmeet Singh Khudian, who was in race for the party ticket, Maheshinder Singh Badal, Hardeepinder Badal and Jagpal Singh Abul Khurana. "I am touring other areas as well. I have also spoken to Brahm Mohindra. Everyone has assured to support me," he claimed.
Harsimrat dubs him 'seasonal frog'
Union minister Harsimrat Kaur Badal on Sunday took potshots at Warring and candidates of other parties in Bathinda, terming them "seasonal frogs". Addressing a public meeting in Mansa, she said, "All these candidates have left behind their Assembly segments to contest the Lok Sabha elections. They are seasonal frogs who will disappear after May 19. They are not her to serve you. I appeal you to send them all packing." Apart from Warring, two other candidates Punjabi Ekta Party chief Sukhpal Singh Khaira and AAP's Baljinder Kaur are also MLAs.
Top Stories