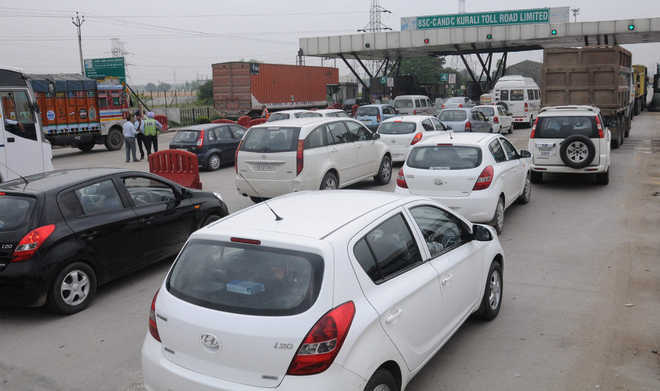 Tribune News Service
Ropar, September 11
A penalty of Rs 30 crore has been imposed on the Solkhian toll plaza authorities for failure to maintain the road from Kurali to Kiratpur Sahib for over two years.
The authorities, however, maintained that a majority of the work on the road had been completed and the rest would be done soon.
Ropar-based advocate and activist Dinesh Chadha, who procured the information under the RTI Act, said the toll tax for the Kurali-Kiratpur Sahib stretch was collected at the Solkhian toll plaza on Ropar-Chandigarh Road by BSC C and C Kurali Road Toll Private Limited. The company was supposed to repair the road by 2016, but it has not been done so far despite several letters written by the National Highways Authority of India (NHAI), he said.
Demanding suspension of the toll collection by the company at the Solkhian toll plaza, Chadha said on October 18, 2018, the NHAI had written a letter to the firm stating that it had violated the agreement by not undertaking the repair work and why its right to collect tax be suspended, but no action had been taken so far.
Besides on August 8, 2019, the NHAI had imposed a penalty of Rs 29.95 lakh on the company but as per the letter dated October 18, 2018, its right to collect toll tax should have been suspended, Chadha added. He said as per the report of an independent consultant, 30 per cent to 100 per cent work relating to the maintenance of this stretch, including bus lay-by, medians and service roads were pending.
When contacted, toll plaza manager Uma Shanker Aiyar said 70 per cent of the work had been completed and the remaining 30 per cent could not be done due to the shortage of funds. "However, it will be completed in due course."