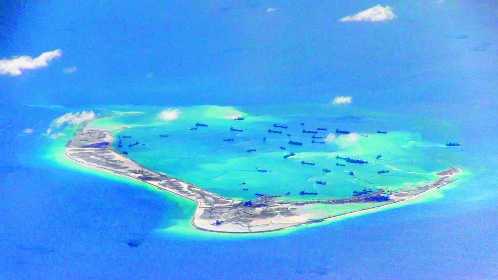 Beijing, March 12
China's Supreme Court has extended its maritime jurisdiction to cover all seas under the country's 'sovereign control', as Beijing firmed up its hold over the disputed South China Sea.
China will resolutely safeguard maritime rights and interests, a work report of the Supreme People's Court (SPC) submitted to the country's legislature the National People's Congress (NPC) on Sunday said.
China's maritime jurisdiction extends to cover all jurisdictional seas, a regulation contributed to China's strategy of becoming a major maritime power, Supreme Court Chief Justice Zhou Qiang said in his report, state-run Xinhua news agency reported.
According to the regulation in effect since last August, jurisdictional seas not only include inland waters and territorial seas, but also cover regions, including contiguous zones, exclusive economic zones, continental shelves, and other sea areas under China's jurisdiction.
Chinese citizens or foreigners will be pursued for criminal liability if they engage in illegal hunting or fishing or killing endangered wildlife in China's jurisdictional seas, Zhou's report said.
China asserts sovereign claims over almost all of the disputed South China Sea. The Philippines, Vietnam, Malaysia, Brunei and Taiwan have counter claims over the area.
Last year, China has rejected an international tribunal verdict quashing its claims over the South China Sea over a petition filed by the Philippines.
Beijing however subsequently worked out a deal with Philippines to the dispute on backburner in lieu of heavy Chinese investments.
Last August China's Supreme Court issued a regulation of judicial interpretation to clarify China's jurisdiction over its territorial seas to nullify the international tribunal's verdict on the South China Sea.
The judicial explanation provided clear legal basis for China to safeguard maritime order, marine safety and interests and to exercise integrated management over the country's jurisdictional seas, the court said.
China also claims the disputed islands in the East China Sea controlled by Japan.
Coast Guard vessels of both the countries patrol the waters around the islands to assert their claims.
Zhou's report also said China's courts tried and concluded 6,899 cases involving foreign businesses and more than 16,000 maritime cases in 2016.
In 2017, China's courts will step up trials of foreign- related business and maritime cases to serve the Belt and Road Initiative (Silk Road) and the strategy of building China into a major maritime power, the report said. — PTI
Top News
International body objects to 'undue influence' from 3rd par...
Russia has repeatedly threatened to fine sites - including G...