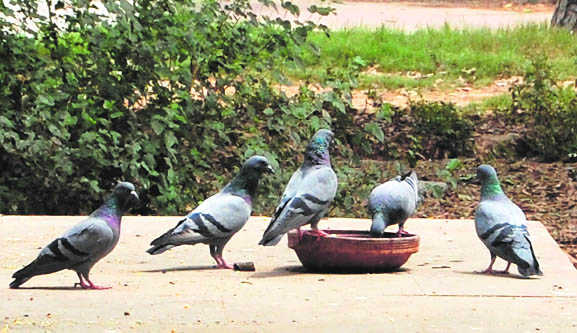 Tribune News Service
Amritsar, May 7
With temperatures soaring in the region during the summers, various NGOs and environmentalists have urged people to keep water bowls for birds on their rooftops to save them from dehydration.
A large number of trees have been chopped in the holy city in the name of development due to which a huge number of birds lost their habitats besides environmental degradation. Summers are very difficult times for bird species and it becomes our prime responsibility to save them and keep them hydrated to maintain the ecological balance, said Parkash Singh Bhatti, a noted environmentalist.
Sparing a thought, Delhi Water Minister recently directed the Jal Board offices to keep pots filled with drinking water for thirsty birds and animals. He asked them to keep a large water bowl on their terrace or any other suitable place accessible to birds or animals, informed Bhatti. He said the local government should also pass similar instructions to the government departments in this connection.
As the farmers in the rural belt also indulged in burning the crop residue, the dense smoke engulfed the region and this further lead to the migration of birds towards city areas, Deepak Babbar of Mission Aagaaz pointed out.
Jagdeep Singh, another environmentalist, said it was the need of the hour to save our environment and its flora and fauna. He said people should make their contribution by planting more and more trees besides protecting birds and animals. They should keep a bowl of water on their rooftops for the birds.
Top News
Vacation Bench of Justices Surya Kant and J B Pardiwala issu...
Apart from Shinde and Samant, the other ministers camping in...
Govt proposes to earn Rs 95,378.28 crore this fiscal, agains...
The ED in April provisionally attached assets worth more tha...
Advocate Sangram Singh Saron tells a vacation bench of Justi...