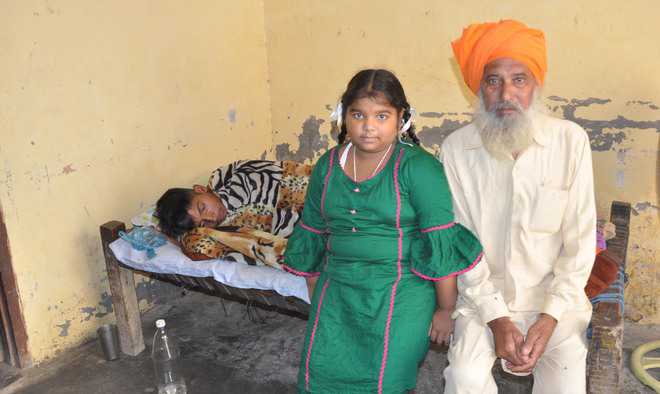 Manmeet Singh Gill
Tribune News Service
Amritsar, October 21
While officials at the Community Health Centre, Mannawala, claim that they have not been reported even a single malaria case so far, at least four families of the village claim that all members of their families are down with fever and there is not even a single fit (health-wise) family member who can take care of them. The Tribune team visited the families, which reside in two lanes here, on Monday.
Other three families claim that they have at least three sick members each. Most of them have been diagnosed as suffering from typhoid by private labs. The others claim that they have tested positive for dengue.
Senior Medical Officer Nirmal Singh at the CHC said, "Let alone dengue, we have not received even a single malaria case in this season." He said fever could be caused due to the viral outbreak. He, however, issued instructions to his subordinates to visit the area and take remedial steps.
While the department promises to help residents, it requires no high-end machine or medical expertise to tell that people are sick in large numbers. From the fatigue, despair and helplessness visible in their eyes, it can be judged that something is not right with them.
Kashmir, who runs a shop from his house, said,"I was admitted to a charitable hospital for 15 days. Even now I am not feeling very well." His family has five sick members, including a two-year-old. His son Rajpal, who has been diagnosed with typhoid, is lying in a semi-conscious state on a cot, while his wife Uma Rani, who is also down with fever, is carrying the toddler in her lap.
Another resident Surinder Pal reported that his brother Kulwant Rai, mother Soma Devi and he himself were suffering from high fever. Another neighbour Jeet Singh reported that his son, two grandsons, and a granddaughter also had fever.
The family of juice seller, Labh Singh, has four sick persons. "My daughter-in-law is alright and is taking care of all of us." The family members of Jagmohan, who lives in the lane, have a similar story to share. Residents said fever had started around 15 days ago and since many residents had been targeted by it.
Top Stories