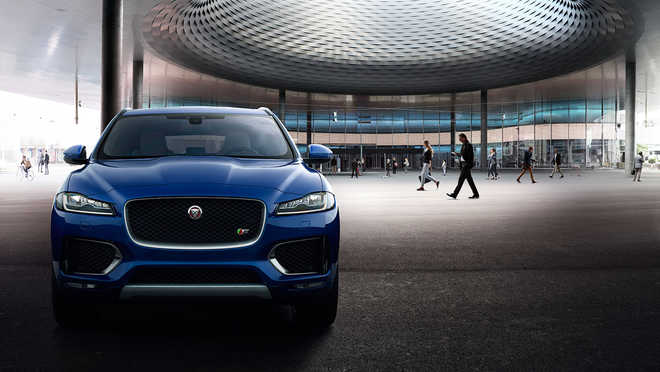 Mumbai, October 20
Hit by the lingering uncertainty over highend diesel cars, the Tatas-owned Jaguar Land Rover India today launched its maiden crossover SUV the F-Pace with a 2-liter diesel engine, making this the lowest powered offering from the British luxe carmaker.
The crossover SUV also comes with a 3-liter diesel engine and are priced at Rs 68.4 lakh for the 2-liter Pure variant, which goes up to Rs 74.5 lakh for the Prestige variant, and Rs 1.02 crore for the 3-liter R Sport variant and, finally to Rs 1.12 crore for the First Edition. All prices are ex-showroom- New Delhi.
Jaguar Land Rover India President Rohit Suri said today that the F-Pace has no direct rivals in the domestic market and may be the Porsche Macan and the BMW X5 could be the distant competition.
When asked about the rationale for a separate SUV brand under the Jaguar brand as group company Land Rover is an SUV only player, Suri said that they launched the F-Pace last year globally as the world over there is an increasing trend of moving to SUVs.
Jaguar never had an SUV as it has always been known for its sedans and Suri termed the F-Pace launch as "a historic moment for Jaguar globally".
Whether the company will lower the prices of its various models here following the massive 18 per cent plunge in the British pound on the back of the Brexit vote in June, Suri said no as pricing is a long-term strategy and not one or two currency specific.
"We will not lower the prices massively for the sake of doing it or to ramp up volume. This is despite the fact that we did it with good result for the Jaguar XJ last year as our price was too different in the higher side.
"We take a long term of the pricing as we source from across the globe and the massive currency depreciation in a few units cannot be a reason for a deeper price cut. Having said, that of course we will look at that option going forward but am sure it won't be massive as we did with the XJ," Suri said.
When asked about the customer response to the F-Pace as the company had announced the prices earlier this month, he said very good but did not quantify.
He said there is no immediate plan to locally assemble the F-Pace. JLR makes five models at its Pune plant-three from the Jaguar stable and two from the Land Rover.
The Jaguar portfolio range includes F-Type, XF, XJ, XE and the F-Pace. Suri said the car will be available at all the 23 dealers from today. The company will have three more dealerships by March, he added. — PTI