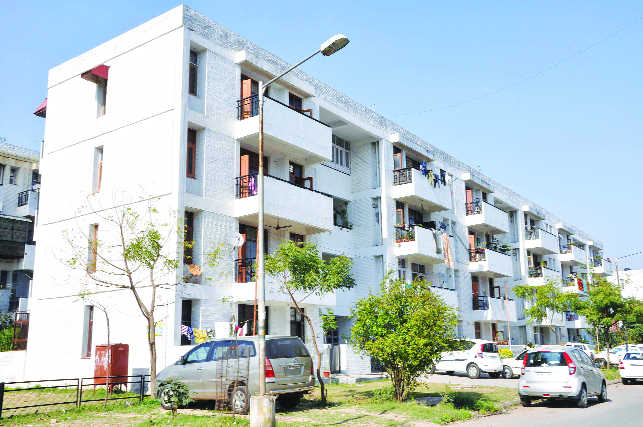 Ramkrishan Upadhyay
Tribune News Service
Chandigarh, November 15
The Chandigarh Housing Board will review the prices of flats under the costliest housing scheme, to be launched in Sector 53. Chairman of the board Ajoy Kumar Sinha asked officials to look into the rates again after some of the directors of the board raised the issue of high prices at a meeting of the board today. Sinha said nothing could be said at this juncture whether the rates would be reduced or not, but officials would have a relook at these and take a call.
The board has given the nod for launching the housing scheme. Sources said the agenda for the scheme was placed before the board to seek permission for starting the tender process so that precious time could be saved in the completion of the project. Sources said the CHB had received 47 applications under the demand survey so far under the scheme. An official of the CHB said they were expecting a good response to the demand survey before the deadline ended.
The board is planning to construct 492 flats under different categories. The CHB has fixed a price of Rs 1,79,91,000 for a three-bedroom (BHK) flat, Rs 1,47,08,000 for a two BHK flat, Rs 94,67,000 for a one BHK flat and Rs 50,11,000 for a one BHK (EWS) flat. The prices fixed by the CHB are the highest in the tricity so far.
CHB officials justified the high rates saying the tentative figures had been calculated on the basis of the approved cost of land.
Meanwhile, the board has given the nod for the auction of residential and commercial properties. The reserve prices of the properties have also been approved by the board. The board has also approved a proposal for the construction of a service duct at IT Park at a cost of over Rs 6 crore.
---
Cost factor
The CHB has fixed a price of Rs 1,79,91,000 for a 3 BHK flat and Rs 1,47,08,000 for a 2 BHK flat. 1 BHK flat will cost Rs 94,67,000.