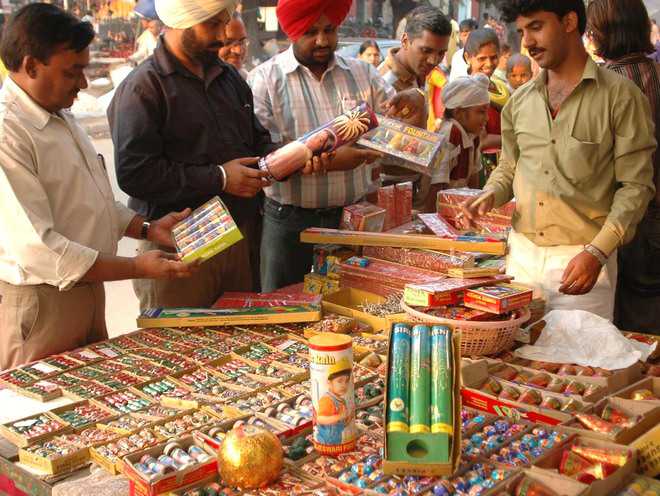 Tribune News Service
Chandigarh, October 13
Cancelling all licences of cracker dealers issued so far, the UT Administration has decided to hold the draw of lots for issuing around 100 licences on October 16 following the Punjab and Haryana High Court orders.
The HC issued directions today that only 20 per cent of the dealers who were given licences in 2016-17 would be allowed to sell crackers this year.
Rajiv Gupta, Additional Deputy Commissioner, said approximately 480 licences were issued last year. However, the exact figure would be known tomorrow, he said.
He said the Administration had decided to seek fresh applications from dealers till 2 pm on October 16. The draw of lots would be held at 5 pm the same day at the office of the Deputy Commissioner in Sector 17.
Gupta said the Deputy Commissioner's office would remain open on Saturday and Sunday also to receive applications. "Only those people who apply fresh will qualify for the draw," he said. Gupta said since the number of traders would decrease following the court orders, the final decision regarding the sites would be taken soon. The Administration had identified 17 sites for the sale of crackers in the city yesterday.
Cracker dealers fear heavy losses in the light of the court decision. Devinder Gupta, president of the Cracker Shops Association, said all dealers had purchased crackers in advance and would suffer heavy losses if they did not get the permission to sell these.
He said the city witnessed a cracker business of around Rs 45 crore to Rs 50 crore every Diwali, which was likely to be affected this year following the court decision.
Data of pollution on Diwali during the past five years reveals that both air and noise pollution has been increasing every year.
Top Stories