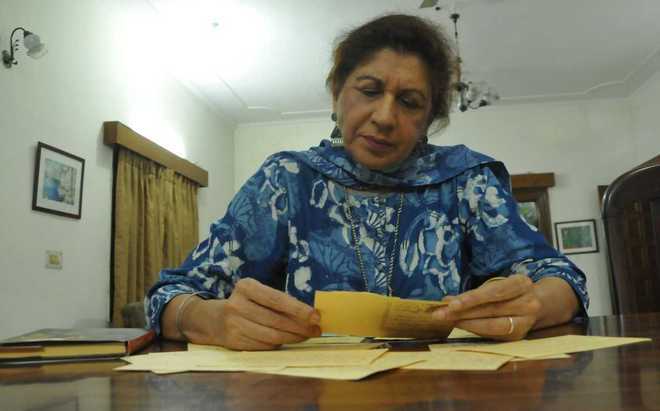 Sanjam Preet Singh
"You can meet him for 10 minutes," said the man on the phone.
"But I will be coming all the way from Mohali," the woman said on the other side of the line.
"Okay. Fifteen minutes,"
he said.
This is how Maninder Kaur (60) got her first appointment with Khushwant Singh.
Their association started with she being the speaker and he her audience. Khushwant Singh had come to Chandigarh for a programme and Maninder Kaur was acting as a compere.
So impressed was he with her oratorical skills and soft voice and the way she recited poems that Khushwant Singh wrote a piece on her.
"Chandigarh wale toh bewafa nahi hote (People of Chandigarh don't betray)" was how Khushwant Singh started his write-up, borrowing the line from her oration.
Maninder doesn't remember the year. But she does remember that Surender Nath was then the
Punjab Governor.
Later, she sent him a postcard with a flower painted on it. Her acquaintances snubbed her; "Khushwant Singh would not respond". But he did. He gave her his landline number and asked her to seek an appointment.
So, the first meeting lasted, not 15, but 50 minutes. "He kept on asking questions. He would ask, have you read Urdu poetry. I would say Faiz. Recite his poems for me, he would say. Then I would name Ghalib. 'Recite for me.' Then he would ask about philosophers I had read. He would ask about art, Gurbani and Bhagvad Gita.
"With him, one could not get away by simply saying 'yes, I have read Faiz or Ghalib'. He would catch you if you had superficial knowledge," says Maninder, who writes poetry and paints as well.
Khushwant Singh endorsed her book of poetry titled "This Dewdrop World".
On subsequent meetings, he always gave her books to read. "Khushwant would say we would discuss them in our next meeting. But he never did. It was his way of ensuring that people do read," she says.
Maninder remembers several anecdotes about her get-togethers with him. "On one occasion, (UK-based business magnate) Swaraj Paul's wife suggested to Khushwant Singh to get hearing aids. He replied, 'I don't need them. That saves me from a lot of bullshit.'"
Every time, the discussion would centre on literature, art and aesthetics. Once, she asked Khushwant Singh about how long a story should be. "He said it could be of two lines. Then he narrated one."
'At the time of Partition, a girl's parents while fleeing ask her to come with them. The girl tells her doll not to worry, as she would return.'
"This story is complete in itself, he said."
On another occasion, he asked her the number of books she read in a month. Two, was her reply. He was surprised. "I read 22 books in a month," she recalls him as saying. "For me, that was a big number."
Maninder regrets not taking a picture with Khushwant Singh. "I thought he might not want to be photographed. So I never asked. But I am sure, he would not have refused."
Never mind, Khushwant Singh is alive in her memories and his letters.
In one of the letters, he wrote:
"… keep writing and painting no matter what.
Love
Khushwant"
Top News
Odisha government has issued helpline 06782-262286. The rail...
At least 50 people died and 350 were injured in a three-way ...
12837 Howrah-Puri Superfast Express, 12863 Howrah-Bengaluru ...
WFI chief demanded sexual favours in lieu of supplements and...
Said agitation will be intensified by holding panchayats acr...