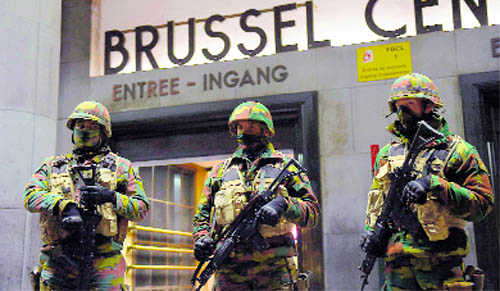 With police raids and violence becoming a daily occurrence, Europe remains a continent on edge. After the horrific violence of last week in Paris killing 129 people and injuring scores others, three men professing their loyalty to the Islamic State stabbed a teacher at a Jewish school in the city of Marseilles. French authorities are ramping up their intelligence networks after the killing Abdelhamid Abaaoud, the suspected planner of the Paris attacks. The identification of Abaaoud raises serious questions for security services.He was high on French and Belgian wanted lists and yet managed to travel from Syria to the heart of Paris without ever leaving a trace
The Belgian authorities have been conducting their own police raids, following up on people connected to Bilal Hadfi, one of the Paris attackers. Sweden is also on alert; authorities there raised the nation's threat level, citing "concrete information" about a possible attack. Britain is bracing for violence as well.
Interpol is reportedly tracking more than 5,800 people suspected of travelling from Europe to Syria to fight there. Turkey has deported several Moroccans and is still holding others who were arrested upon arrival at Ataturk Airport in Istanbul on suspicion of ties with the Islamic State. In a speech in Istanbul, President Recep Tayyip Erdogan called "on all leaders of Muslim countries to put up a united front" against the Islamic State. "If not, those who knocked on our door in Ankara, will knock on your door elsewhere, as they did in Paris," he said.
Great power politics in the Middle East, meanwhile, has taken a new turn. After announcing that the October 31 Metrojet crash in the Sinai was caused by a bomb, Russia has begun bombing Islamic State targets in Syria in coordination with France. Russian President Vladimir Putin and French President Francois Hollande have agreed to coordinate airstrikes; the two leaders will meet in Moscow later this month. Russian officials notified the United States in advance of the strikes, marking the first time that the United States and Russia have used the deconfliction protocol agreed to in October. Russia claimed it targeted command centres where the Islamic State coordinates operation in Idlib and Aleppo — regions that were also struck in cruise missile strikes — though the Islamic State does not operate in these areas.
French President Francois Hollande is hoping to build bridges between Russia and the US but the chances of building a solid military partnership between the three countries in the fight in Syria remain a tricky business. Not only do American and Russian officials have different goals — the removal of the regime of Syrian President Bashar al-Assad vs. propping up, at the very least, the ruling apparatus around him — they have also been arguing over who is doing a better job in bombing legitimate targets in Syria. France and Russia may have just suffered grievous blows at the hands of Islamic State operatives, but the wrangling for influence in a critical part of the world between Washington and an increasingly insistent Moscow will likely drive the future of the conflict. One of the major problems is that Russia and the United States each refuse to accept how the other is waging the war in Syria
Not one to be left out of a mounting air war, the United States has launched a new round of strikes hitting Syrian oil fields and ISIS oil tanker convoys, dubbed Operation Tidal Wave II. It is aimed at cutting off the oil revenue of the Islamic State, estimated to be taking in hundreds of millions of dollars a year. Up to now, US warplanes had been taking it easy on the fixed Syrian oil infrastructure but now all bets are off.
Despite this clear and present danger, contradictions abound in the western approach. The US Defense and State Departments have agreed on a $1.2 billion deal to sell Saudi Arabia 22,000 bombs to help the Kingdom restock its shelves after months of bombing Houthi positions in an increasingly controversial air war in Yemen. An offensive by over 2,000 Syrian Arab fighters in eastern Syria pushing to take control of a main border crossing between the two countries has also begun. The fight is led by a new umbrella group that calls itself the New Syrian Army, which operates as part of the Authenticity and Development Front, a moderate Islamist grouping that claims 2,200 fighters operating in different parts of Syria. A conservative Saudi militant, Khaled al Hammad, leads the group, parts of which have won US backing, arms and training, because they effectively fit the US restrictions that their first aim must be to fight the Islamic State and not the government of President Bashar Assad.
The CIA Director John Brennan has suggested that the Islamic State is currently working on more terrorist plots against the West following the attack in Paris that killed at least 129 people and injured hundreds more. Brennan also criticised new privacy protections enacted after Edward Snowden's disclosures about the US government surveillance practices. "I would anticipate that this is not the only operation (the Islamic State) has in the pipeline," Brennan made it clear. "It's not going to content itself with violence inside of the Syrian and Iraqi borders."
Whether this realisation is enough to bring Washington and Moscow to a common understanding of the threat facing the West and the wider world remains to be seen. If the present trends are anything to go by, the world should not be waiting with bated breath.
The writer is Professor of International Relations, Department of Defence Studies, King's College London.
Top News
Congress' state in-charge says the party is tipped to get th...
A prime minister for six years between 1998-2004, Vajpayee d...
This is first time All India Football Federation has been ba...
Sri Lanka had earlier asked China to defer the visit amid In...
Had allegedly tried to attack the policemen who went to deta...