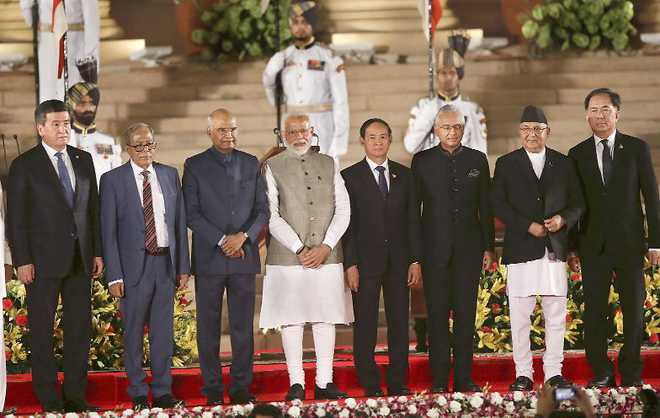 Manoj Joshi
Distinguished fellow, observer research foundation, New Delhi
Aneighbourhood policy never stands still. Diplomacy and dialogue can manage and, sometimes, resolve problems, but the friction of proximity always ensures that something or the other needs to be fixed, tweaked or altered. And so it has been with India and its neighbours.
Having gone through one cycle that featured everything from blockades, as in the case of Nepal, the Doklam confrontation, and the resolution of land and maritime boundaries with Bangladesh, the Modi government is now entering another, with newer issues, challenges and opportunities.
Modi's first term began with a bang when he reached out to India's neighbours, including Pakistan. But the 'good neighbour' policy began to falter. It first hit the shoals of Nepal, when an Indian move aimed at teaching Kathmandu a lesson lengthened into a five-month blockade that has had a long-term negative impact on our relations. Ties with Pakistan were next. Modi's move to display his friendship with Nawaz Sharif on December 25, 2015, was torpedoed by the Pakistan army which unleashed its proxies to attack the Pathankot air base a week later.
Relations with the Maldives were already fraying when Modi took office, but the arrest of former President Mohammed Nasheed led to the cancellation of the PM's visit as part of his four-nation Indian Ocean tour in March 2015, and a decline reversed only by President Yameen's defeat in the 2018 general election.
Relations with Sri Lanka saw an upturn with the defeat of Mahinda Rajapakse in the January 2015 elections. India reportedly played a role in organising the coalition to take on Rajapakse. But soon it became clear that his successor Maithripala Sirisena was not about to move Sri Lanka away from its close ties with China.
Bhutan and Bangladesh, however, remained close to India. Sheikh Hasina's electoral ascendancy, achieved in the 2014 and 2018 general elections, has brought an era of peace and cooperation between the two countries, even if democracy in Bangladesh has had to pay the price. Doklam has created internal fissures in Bhutan, but its monarchy remains firmly aligned to India.
And then, of course, there is China. Here, too, there was turbulence. Xi and Modi's reciprocal visits in 2014 and 2015 failed to achieve much. The result was a steady drift that ended with the confrontation in Doklam in 2017. It was only when the two sides realised how destabilising this could be that they drew back and decided to change course through a new dialogue mechanism of unstructured summits, begun in Wuhan in April 2018.
By now it should be clear that India faces a long-term competition with China in our own South Asian and Indian Ocean Region (SA-IOR) backyard. This may once have been motivated by Beijing's vulnerabilities in Tibet and Xinjiang, the Malacca dilemma and a desire to keep India in its place, it is now being driven by China's economic expansion, one that needs newer and bigger markets, including India itself.
Poor policy choices and domestic turmoil have prevented India from unleashing its own economic transformation, one that would give it the wherewithal to compete with China. As a result, we are dependent on who wins an election, a Sirisena or a Rajapakse, a Solih or a Yameen, a Deuba or an Oli, rather than economic or military power that can shape the behaviour of our neighbours.
The challenge of Modi's current cycle is not so much in the smaller neighbours, but the larger ones—China and Pakistan. Of these, the China track seems to be working well with the second Wuhan-type meeting scheduled in October. What India has to worry about is suffering collateral damage as the US-China trade and technology competition gathers pace.
That leaves Pakistan, easily the most difficult of India's neighbourhood relationships. The election of Imran Khan provided an opportunity for a fresh start, but one which was frittered away by the BJP's need to maintain a hostile posture towards Pakistan because of the coming general election. This received an unexpected boost with the Pulwama attack, something that the government exploited brilliantly to win the elections.
But now, New Delhi needs to step back and think. Pakistan has just worked its way back into the good graces of the US, by facilitating the putative Afghan settlement that could see the return of the Taliban into the Afghan mainstream. With its western strategic depth shaping up, Pakistan could either stir up trouble in J&K, or perhaps decide after its futile experience that there is little to be gained in that direction.
The signals are there. Pakistan has arrested Hafiz Saeed, closed down militant camps in POK, shut off the infiltration tap since the beginning of this year and removed Khalistani activists from its gurdwara committees. Not all of these are aimed at staving off the Damocles sword of the Financial Action Task Force and Donald Trump. But perhaps the penny has at last dropped into the minds of Pakistan's deep state that the jihadi armies are past their 'use by' date.
The US has, of course, being pushing publicly and vociferously in this direction. But there are reasons to believe that so is Beijing. This is a delicate juncture for China. It is locked into what could be a life-and-death struggle with the US for markets, technology and influence. The last thing it would want is an India—which has already been shifting towards the US in the past five years—solidify its relationship with the US to the exclusion of China. As for Pakistan, this could well be its last chance.