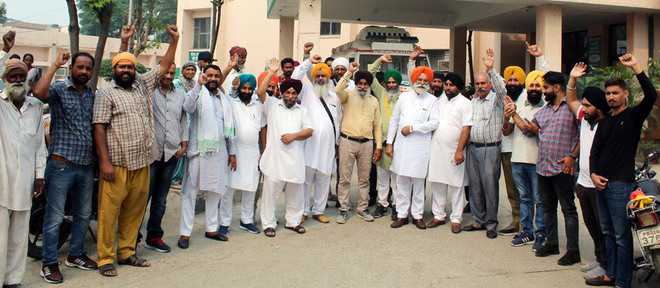 Manmeet Singh Gill
Tribune News Service
Amritsar, October 17
Dengue count in the district has seen a sudden jump in the previous week. The number of cases has reached 108 from the previous 60.
The situation led to a protest outside the sub-divisional hospital by Shiromani Akali Dal councillors on Thursday. Councillor Jaspal Singh, who led the protest, said: "Five persons have lost their lives due to the disease recently but the official machinery has not woken up." He said the state of cleanliness in the town was poor.
The councillors demanded that dengue diagnosis test should be made available free-of-cost at the sub-divisional hospital. "Some labs are charging as high as Rs1,000 from patients. If the tests are done for free at the sub-divisional hospital, it would people from economically-weaker sections," said Jaspal Singh.
He said they had demanded availability of doctors throughout day and night to deal with the patients. "With no facilities available at government hospitals, poor patients are forced to visit private hospitals which charge heavily," he said.
A senior official of the Health Department said: "Till date, not even a single death due to dengue in the current season has been reported." He said private hospitals were issuing reports on their own without reporting the matter to the department.
He said: "Even on reporting of a suspected dengue patient, blood samples are collected and tested at Government Medical College. We have testing facilities at Civil Hospital and Government Medical College." The official said that they were regularly organising camps in Ajnala to deal with the situation.
Top Stories