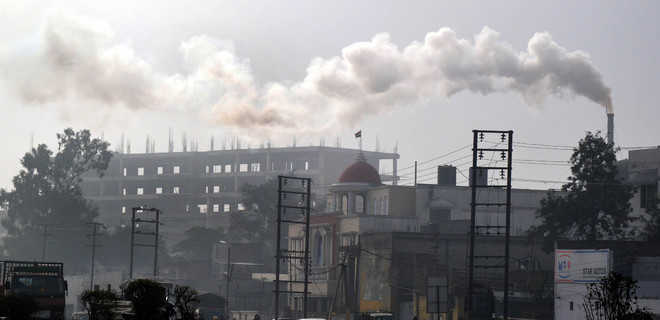 Minna Zutshi
Tribune news service
Ludhiana, May 12
Statistics have long ceased to alarm the people of Ludhiana. Year 2011 – as per the World Health Organisation (WHO) report, the city had the unenviable distinction of being the fourth most polluted city of the world. Apart from a few customary sighs and laments on part of the city residents, the city went on with its usual hustle and bustle. Now that the city is the twelfth most polluted city of the world, it's again over to customary bemoaning. But beyond the laments, there's a foolish belief that the adverse effects of pollution may be a subject of academic nit-picking or they may be a part of a journalist's reportage, but the city residents will remain immune to the harmful effects of pollution.
The other day, I was at an acquaintance's place in industrial area. Along with the hostess, I went over to the terrace. The city looked almost beautiful. I switched off my cellphone and kept it near a flowerpot on the terrace and strolled over to have a view of the city.
My hostess let me savour the cellphone-free time. In less than five minutes, my phone-addicted self was back to reclaim the phone. I was in for a rude surprise – my phone was covered with black soot. As I looked around for the 'culprit', I noticed that my pastel shade outfit, too, was covered with soot.
Seeing a perplexed look on my face, my hostess made light of it. "Oh, it's the dyeing industry. It keeps happening," she said. I remained distracted for the rest of my stay at her place. How easily we have accepted pollution as a part of our life! Easy acceptance means no questions asked; authorities can conveniently slumber over the alarming statistics.
Back home, I was in a self-congratulatory mode. At least, my home is away from the industrial area. No dyeing industries to pollute the air I breathe. Hardly had I said this to myself when I saw our off-white dining table covered with black soot. "It's the stubble-burning effect," said my brother.
"May be, you need to get a tad darker-shade table top," chipped in our domestic help, very happy to have made a 'wise' suggestion of 'camouflaging' the offending soot. Again, it was the same attitude of easy acceptance – pollution is a given in a city like Ludhiana. No wonder, the city remains infamous for being among the most-polluted cities of the world – a 'distinction' the city can very well do without.
"People are so concerned about their health today. But how can they lead a quality life in such polluted environment? In case government wants to take steps, we should collectively make efforts to save our environment. If diesel-run autos are causing pollution, these should be taken off the road and the government must provide them with alternative arrangements to eke out a living. But the government's priority should be saving environment." Gurleen Kaur, An MCom student
"It is a superficial development. Many areas of this Assembly segment are still facing scarcity of drinking water and health facilities. Issues of border residents are still not solved and people are not getting better irrigation facilities. Furthermore, these elections are for strengthening nationalist forces in the state. As far as the BJP is concerned, we are seeking mandate of the people to form a nationalist government." Ruchika Goel, Homemaker