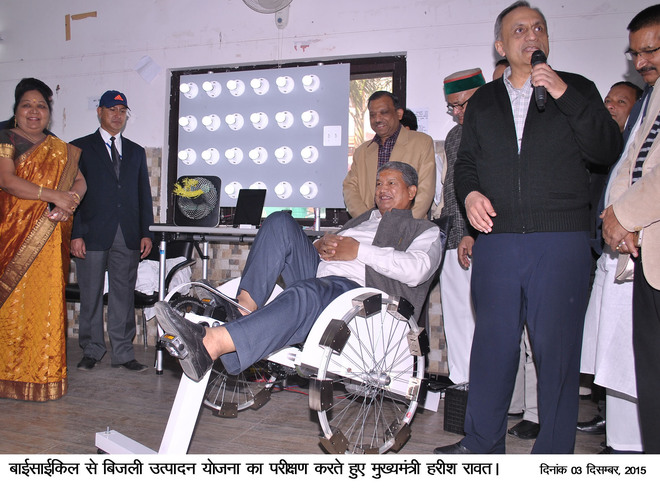 Tribune News Service
Dehradun, December 3
With an aim to promote 'Green Uttarakhand' mission, Chief Minister Harish Rawat today tested a free electric bicycle launched by Indian-American businessman and social worker Manoj Bhargva at the Bijapur guest house in Dehradun today.
The Chief Minister while addressing the gathering said it was a matter of happiness that the multipurpose electric bicycle was being launched in Uttarakhand. The electric bicycle would prove to be a big boon for people of the state, particularly for those residing in remote hill villages.
He said the electric bicycle machine manufactured by Bhargva, which was priced low, would prove useful for middle class families in producing domestic electricity. "Uttarakhand has 500 villages where sufficient electricity supply is not available. Providing uninterrupted electricity supply to these villages is our top priority," Rawat said.
The Chief Minister appreciated Bhargva and said he was hopeful that he would use his knowledge and technology to develop irrigation and tourism sectors of the state. The gathering was informed on the occasion that the production of electric bicycle would be started in Utarakhand.
Electricity supply for 24 hours can be produced by peddling the bicycle for one hour, which can meet the requirement of a small home. Manoj Bhargva is the maker of worldwide popular Five Hour Energy Drink.
Bhargva is an industrialist, social worker and founder and Chief Executive Officer of Living Essential.