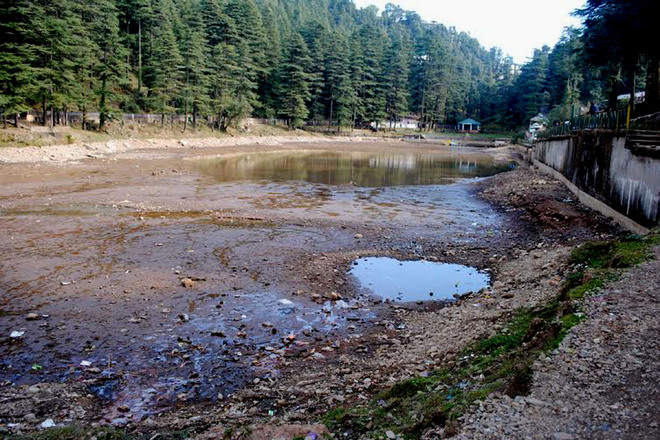 Lalit Mohan
Tribune News Service
Dharamsala, November 22
The picturesque Dal Lake of Dharamsala located at an altitude of 1,775 meters above the sea level, is dying a slow death. The Dal Lake earlier used to be like a bowl of water trapped at the bottom of the mountains and surrounded by lush green deodar forest. It was a famous tourist spot. The tourists used to enjoy nature at the banks of the lake. They would boat in clam and tranquil waters of the lake.
However, at present the lake is dying as it is losing its water storage capacity lost due to rapid silting. Due to silting, the lake is also losing its natural flora and fauna.
Rakesh, who resides near the Dal Lake, says, "Earlier, we could see fish in crystal clear waters of the lake. However, now a day one can hardly find any fish in the lake."
Sources here said the lake used from natural underground sources that have been choked due to silting.
The local municipal council and government departments have spent about Rs 40 lakh in an effort to save the lake. Most of the amount had gone in de-silting the lake. Even the local labour under MGNREGA was employed to de-silt the lake. However, all the investment has gone waste and the efforts have failed to restore the lake to its pristine glory.
Former Director of the Geological Survey of India (GSI) LN Aggarwal, while talking to The Tribune, said the efforts had failed as entire process to de-silt of save the lake was carried out in an unscientific manner.
He said to save the lake first the base should be cleaned of all muck and material that was unwanted. To prevent seepage one cut off should be provided at a suitable depth to the southern end of the lake. This should be done in consultation with engineering geologist and a ground water expert. The de-silting of the lake should be done repeatedly. To check the flow of silt into the lake small check dams can be constructed in the channels draining water into the lake. The inflow of silt should be stopped from the northern side of the lake by small preventive wall and plantation of grass that would prevent erosion of soil, LN Aggarwal said.
He further said in case inspection and maintenance is done periodically the decay in the lake can be prevented. The Dal Lake is also considered as sacred by the locals and an annual mela is organized here to worship local deities.