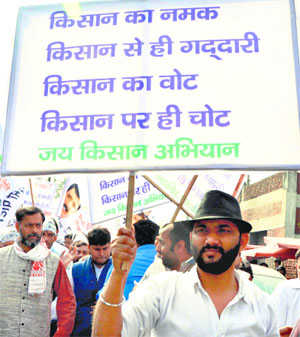 Tribune News Service
Gurgaon, February 24
A group of farmers from Gurgaon, Mewat Pataudi and Manesar joined Anna Hazare at Jantar Mantar today. They demanded the withdrawal of amendments to the Land Acquisition, Rehabilitation and Resettlement Act, 2013.
"We have been protesting for last two years. We had hoped for a change with the new realm, but even they are least bothered about farmers. We are only dependent upon ours lands and agriculture, but the government does not realise this," said Mahem Khan of Rozka Meo village in Mewat.
"People look up to Gurgaon for its rise in special economic zones (SEZs), but nobody thinks about farmers. Around 1,383 acres of land were acquired in 2006 for setting up a SEZ from our village and its nearby areas, but the project was shelved. Today, our lands are lying unused and we have not been given our dues, so we want our lands back," said Praveen Dagar, a farmer of Gadoli Khurd.
The AAP unit of the district, under the leadership of Yogender Yadav, has been reaching out to farmers across Gurgaon and Mewat.
After organising a successful Jai Kisan rally, the party is now taking the anti-land ordinance protest forward. The farmers plan to organise similar protests in the coming weeks.
"Our lands were acquired by the Hooda government, a day before the act came into force. We expected that the new government will cancel the acquisition, but the new ordinance issued by the Centre is anti-farmer and deprives landowners of their rights of resettlement," said Mahender Singh, a farmer from Pataudi, whose land was acquired under the old Land Acquisition Act, 1894, that got him only half the expected compensation.
Top News
Says wants it to commit constructively to establish facts
Blinken says it is 'important for India to work with the Can...
However, neither the government body nor the politicians sin...
Canada's trade and ability to be a part of Indo-Pacific and ...
A property confiscation notice has been affixed outside his ...