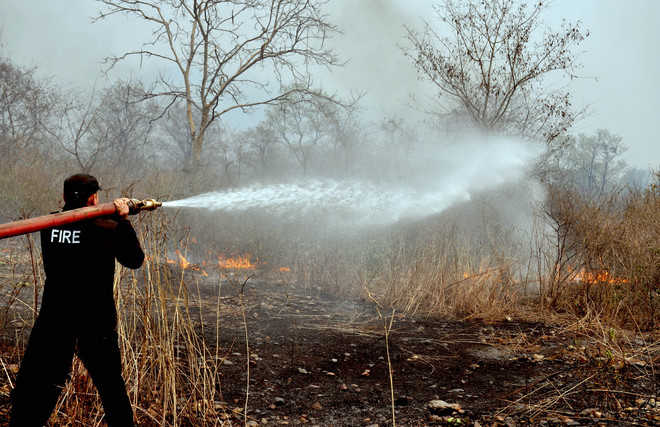 Jotirmay Thapliyal
Tribune News Service
Dehradun, May 5
The evaluation of loss of forest wealth in Uttarakhand due to forest fires continues to be a tedious affair. There is no foolproof mechanism to evaluate the loss caused due to the destruction of a tree in fire.
The devastating forest fires have destroyed forest wealth. Though the records of the state forest authorities shoe the loss to be to the tune of a few lakhs of rupees but the loss could he quite high taking into account the ecosystem services rendered by a tree throughout its life time.
Uttarakhand has a 1.6 per cent share in the total forest area of the country. According to the State of Forest Report, Uttarakhand has over 65 per cent of forest area, including 46 per cent of pure forests. In November 2007, a study evaluated Uttarakhand forests at $2.4 billion (approximately Rs 10,700 crore) per year in terms of the services these provide.
Ecosystem services rendered include carbon sequestration, climate management, hydrological regulation, timber, firewood, soil conservation and pollination. A study entitled "Valuation of ecosystem services and forest governance" prepared by the Leadership for Environment and Development India and its partner organisation, Central Himalayan Environmental Association, under the guidance of Prof SP Singh, had said the services rendered by the Uttarakhand forests need to be recognised and compensated. It had evaluated the ecosystem services rendered by the Uttarakhand forests to the tune of Rs 10,700 crore per year.
But in the state records, the loss due to a forest fire is estimated at a few rupees per hectare. A former forest officer, Girjashankar Pandey, admits that the assessment of the loss due to forest fires is done on the basis of per hectare of forests affected. He says the loss suffered in a forest fire is not only burning of trees but the loss of the ground flora and fauna is a matter of serious concern. The forest floor is used by birds to lay eggs during this time of the year, which are directly affected by forest fires. The loss to the environment caused due to forest fires is immense and is beyond any monetary calculation, he adds.
Meanwhile, rain today came as a big relief for the state that had been witnessing raging forest fires for the past fortnight. The rain that started yesterday continued today, covering almost all districts of the state. Meanwhile, no incident of forest fire was reported from anywhere in the state today. Three helicopters, 368 vehicles and 19 water tenders were put to use to douse forest fires.
A total of 11,773 employees, including 296 officials from the National Disaster Response Force, 5,918 from the Forest Department, were deployed to douse fires.