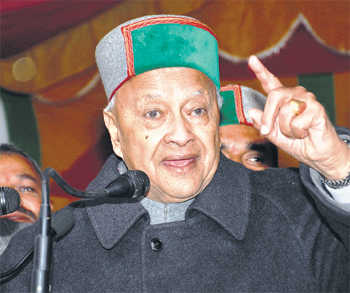 Tribune News Service
Shimla, December 17
Chief Minister Virbhadra Singh today said the Income Tax Appellate Tribunal was a "kangaroo court" set up by Union Finance Minister Arun Jaitley, who had to target him.
Interacting with mediapersons here, the Chief Minister said the IT Appellate Tribunal had two benches and four judges. "A judge was specially summoned from Delhi to deliver the judgment in my case where I had sought re-assessment of my IT returns," he alleged. He said the order would be challenged by him in the High Court and, if need be, he would take the legal battle right up to the Supreme Court.
Virbhadra made it amply clear that he was being made a target of political vendetta as was obvious from the fact that a simple income tax case was being investigated by three different agencies, the CBI, Enforcement Directorate and Income Tax Appellate Tribunal.
"The order passed against me by the Income Tax Appellate Tribunal is a return gift from Hamirpur BJP MP Anurag Thakur using Arun Jaitley for proceeding against the Himachal Pradesh Cricket Association (HPCA) for the irregularities committed by the sports body," he stated.
"I am being targeted for the simple reason that the Vigilance Bureau registered cases against the HPCA headed by BJP MP Anurag Thakur for violations," he claimed.
In reply to a query on the demonetisation scheme by the Modi regime and tax evasion by some people, the Chief Minister said all big industrialists were in Mumbai and Gujarat. "Nobody is indulging in tax evasion in Himachal, rather it is Modi who is surrounded by tax evaders," he remarked.
Virbhadra said the Congress would fight the false propaganda and malicious campaign by the BJP in the Assembly elections. He added the Congress would regain power on the basis of its agenda of development.