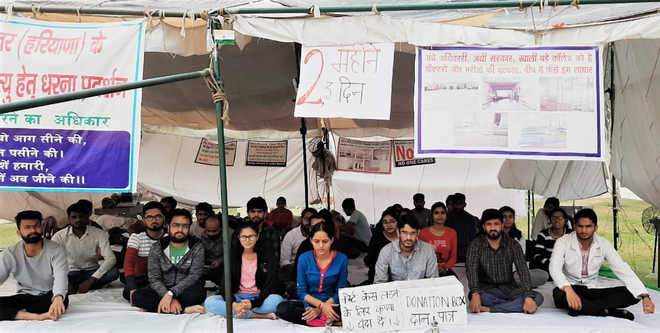 Ravinder Saini
Tribune News Service
Jhajjar, November 6
MBBS students of World College of Medical Science and Research here have decided not to end their agitation until they are shifted to other college as assured by Chief Minister Manohar Lal Khattar while replying to Jhajjar MLA Geeta Bhukkal who raised the issue prominently in the Vidhan Sabha yesterday.
In his reply, the CM said the Health Department had been directed to shift the students to other private colleges from new session. Since, it was not possible to adjust all the students in a college hence, the department had been asked to make adjustment of their seats in such colleges, he added.
"We had written to the Medical Council of India (MCI) regarding the issue. Now, that the MCI submitted its report, the Health Department has been asked to make arrangements of their shifting at the earliest," said the CM in the Vidhan Sabha.
Earlier, Bhukkal had urged the CM to resolve the row by issuing essential certificate to ensure the shifting of protesting students to other private colleges.
"The students got the admission in World College through NEET three years ago but several discrepancies have been found in the college's functioning during the MCI inspection hence shifting of the students is required to provide them justice," she added.
The students have been staging indefinite dharna for past 63 days in Jhajjar city to mount pressure on the state government for shifting them to other colleges. They alleged World College neither has adequate number of doctors nor has patients in its hospital. Even, the college authorities were pressurising them for withdrawing the case pending in High Court regarding their shifting, they alleged.
"Even though the CM has announced to accept our demand of shifting but we will not end our agitation until a written order is issued in this respect. All students welcome the Chief Minister's announcement but also urge him to execute his announcement at the earliest," said a protesting student.
Indefinite strike by medical students
The students have been staging indefinite dharna for past 63 days in Jhajjar city to mount pressure on the state government for shifting them to other colleges
They alleged World College neither has adequate number of doctors nor has patients in its hospital