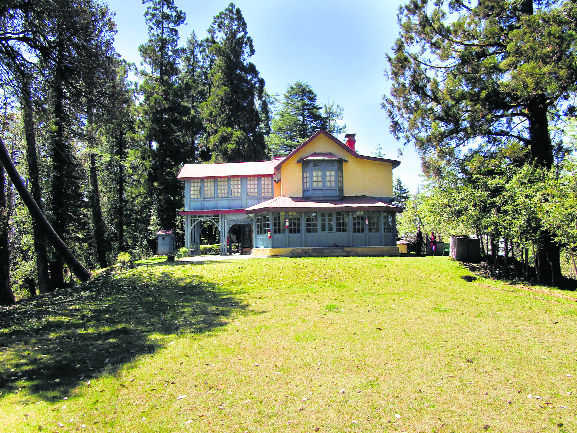 Shriniwas Joshi
I was in Mashobra-Sadhaura area recently. There is a handsome house called Honington by the side of the ground, where buffalo fight (Jhote ka Mela) is held.
The word Honington has probably been picked up from the same name of a parish on the river Stour in Warwickshire in United Kingdom. The House was built by Lieutenant General Sir Edwin Henry Hayter Collen in the last quarter of the 19th Century though he had owned the ground for over 30 years. Sir Edwin was charmed by the name Honington otherwise he was born in Hertfordshire at Holywell House in Saint Albans. There is a story behind Holywell House, too! When Saint Alban's was executed, his severed head rolled down the hill and into a well at the bottom, while some versions quote that the well started springing from the site at which the head had stopped.
Collen, the builder of Honington, had thus no connection with Honington of England. It was only fascination for the word that this building with the peculiar name had come up in Mashobra. Edwin Collen's father was a miniature portrait painter and photographer to the court. Edwin joined the Royal Artillery in 1863. He passed through the Staff College in 1871-72 and joined the Indian Staff Corps. He served as Secretary in the Military Department in India and remained a Military member of the Council of the Viceroy of India from December 1895 until he retired in April 1901. He got married to Blanche Rigby in 1873. He had a pet dog 'Batchee'. Batchee actually means a big bug, but Collens and Batchee loved one another. Batchee drew its last breath in 1900. Collens did not go far to bury their pet, but they dug its grave within the complex. One can see a stone over the grave of Batchee even today. It reads: "Batchee, for 13 years, a faithful companion of Edwin and Blanche Collen, left them in 1900." This is the second grave of a dog that I have seen in Shimla. Another one was that of the dog of General Sir William Maynard Gomm, Commander-in-Chief of India from December 6, 1850, to January 22, 1856. Barnes Court, now Raj Bhawan (Governor's residence), then used to be the residence of Commander-in-Chief. General Gomm had a bloodhound Coonah, who died here. The wife of Sir William Gomm had buried her favourite 'Coonah' in the open space north of the building in 1851. The grave still exists and people crossing the site at night say that they often hear fierce bark of a dog there. Is Coonah a phantom bloodhound now?
Honington and other cottages were purchased by Faridkot in the second quarter of the 20th Century. Today, the owner of complete Faridkot estate, including Honington is Maharawal Khewaji Trust. What is this Trust? Sir Harinder Singh Brar at the age of three in 1918 was the last ruler of Faridkot estate, who became full-fledged ruler in 1934. He was married to Narinder Kaur. They had three daughters, Amrit Kaur, Deepinder Kaur and Maheep Inder Kaur and a son, Harmohinder Singh. Unfortunately, the son died in a road accident in 1981. The Maharaja went into depression and, it is being claimed, that he executed a will 7 to 8 months later and formed Maharawal Khewaji Trust to take care of all his properties.
It is said he overlooked the inclusion, in the will, of his mother and wife, who were living then, and appointed his second daughter Deepinder Kaur as the Chairperson and the youngest Maheep Inder Kaur as the Vice-Chairperson. Why did he ignore his eldest daughter, Amrit Kaur, too? She had married his father's aide-de-camp in 1952, who was already married and had children. The princess then was only 19 and willing to start a life with Harpal Singh, a commoner, breaking the tradition of marrying in a royalty. Harpal later became DIG in Haryana Police. It is said that the Maharaja did not like it and he cut her out of his will and the family estate. There were five cottages belonging to Faridkot at Mashobra, Edelweiss, Kenilworth, Sherwood, Cozy Nook and Honington. The first four were in one compound and Honington in the other. Edelweiss was burned down in 1980 during the lifetime of the Maharaja, who died in 1989; Kenilworth and Sherwood were destroyed in a fire in 2000. Honington cottage looked tidy and the caretaker there told me that it was being used, today, as transit accommodation for visiting members of the Trust. I saw a plant Goldenrod (Solidago) there that had more flowers than the petals. It brings good luck and fortune. Because of this plant, perhaps, Honington has not met the fate that its other sister-cottages had.
Tailpiece
A priest wanted to rebuild a burnt temple. He said: "I have good news and a bad news. Good news is that we have money enough to rebuild the temple and the bad news is that the money is still in your pockets."