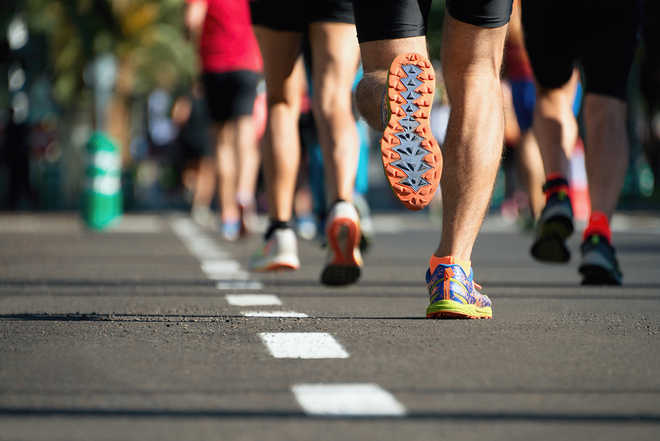 Mona
A good laugh and a long run are the two best cures for anything. And, Chandigarh folks are making the most of the latter. Up to three marathons a month, to about half-a-dozen active clubs, running, rather running together, seems to be the new fad to stay fit. Those who do it have an exhaustive list of benefits it offers - endurance, fitness, fuss-free regimen at minimal cost; natural high, stamina, stress relief. Here's catching up with some.
Tie your laces
IFS officer Dharminder Sharma ran solo for close to a decade before he came together with a few more to establish Chandigarh Runners Club in 2014. Starting with 20 persons, at its peak this club saw about 3,000 members before it branched off into different sub-groups. "A club offers a range of benefits for amateur runners, right from motivating to starting tips." Running has been his go-to work-out for not only is it cost-effective, it also requires no preparation. It is also time-flexible. "You got 10 minutes on you, just tie your laces and you are good to go, that's what running offers over all other sports that requite particular space, equipment and people."
PASSION NOW
Saksham Sharma entered his first run by fluke. "Someone told me at the gym that there was a run; I registered considering five kilometres only to realise that registration fee was for 21 kilometres and anything less was free. Now, I have actually paid for 21 kilometres," Saksham recalls. With cheerleaders at every kilometre; the first ten were a breeze. "Since it was my first run, I was kind of done by 15 kilometres but then the car was parked at the finish line, so somehow I completed the rest," he laughs. Since then, it has been 21 kilometres always for the last two years. "I love running with folks; the synergy, lifting each other up, its exercise and social interaction both," says this Masters in Literature.
Plogging team
For Jaswinder Gill, inspiration came in Paveela Bali, who established The Run Club. "I suffered aches and pains, but goaded by Paveela I took up running and haven't looked back," shares this homemaker and mother of three, who loves that her club combines fitness with causes. "We go plogging around the town, run about three days a week regularly; and enjoy our breakfasts, coffees and lend a hand in making this a better place," she smiles.
Health comes first
A software engineer Mandeep Sarkaria also found the ease of running to be starting point. Over the last one year, he has done many long distance runs with the Chandigarh Distance Runners. "Life's taken a 360-degree turn. I wake up early to run, so sleep early too. Fridays, Saturdays are sober; no time for booze parties, fried is out of the window for none helps in a good run. So I am 14 kilos less with a way healthier lifestyle." Running with a group motivates you to achieve targets. "It is a joy to see one's progress vis-à-vis your mates."
Driven by causes
Nothing new, benefits of running were known for long, so why this sudden spurt in running groups in the city? Dharminder places the credit with the advent of social media. It started with rousing response to Delhi and Mumbai marathons. "Suddenly it was the new 'cool' thing to do."
Running for a cause helped further. Chandigarh Runners Club had its first run against smoking and has since supported many more causes. "Running together helps break barriers, reach new milestones," says entrepreneur Chetan Wadhwa, from Chandigarh Runners Club.
mona@tribunemail.com