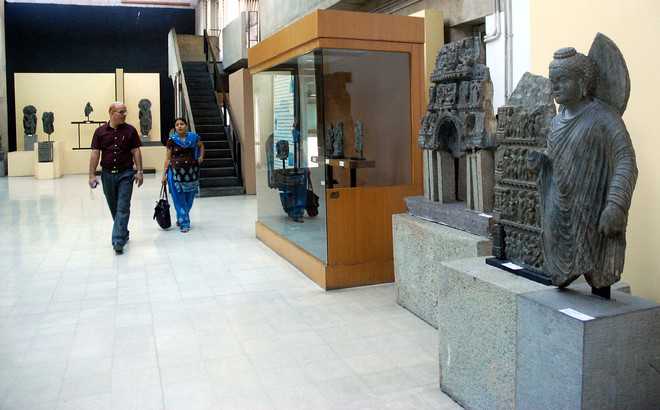 Amarjot Kaur
If you are a Chandigarh 'born and bred' millennial, we empathise with you for hearing tales about how Kiran theatre looked like during the 50s and that Sector 17 was 'the' place to be! We are also sure you've heard that...'the southern sectors were only but jungles with some houses here and there'.
Guess what, Chandigarh has a pre-historic past; it has fossil remains with imprints of a large variety of aquatic plants, animals, and amphibians. Also, about 8,000 years ago, the area was known to be a home to Harappans.
Well, cities evolve just like we grow. But does that keep us from looking at our childhood pictures? On the International Museum Day, let us become tourists in our city and interact with the past, which reminds us of our present. The museum culture in the city has gone beyond Sound and Light Show. It's the age of audio tours!
A museum experience
A conversation with Kriti Garg, Director, Government Museum and Art Gallery, updates us on the new strategies that the government is planning to adopt, some of which are also being implemented as pilot projects. "It's rare to find three museums on one campus, like we have Government Museum and Art Gallery, Natural History Museum, and Chandigarh Architecture Museum in Sector 10. To involve more students, we have tied up with private and government schools, and they visit the museums here. However, I would like to get more footfall and participation from the students at Government College of Arts. We started an audio tour of the museums and are also organising a painting exhibition by 18 artists on the International Museum Day," she shares.
Though Kriti adds that during her tenure no sale or purchase of items in the museum has taken place, she refuses to comment on the policies regarding the same. "The policies will soon be made available on the website when it gets completed, as it is still underway," she says. According to the data given by Kriti Garg, the footfall at Government Museum and Art Gallery last year was 45,955 and this year it increased to 63, 230.
All dolled up
At the International Dolls Museum, Bal Bhawan, Sector 23, we stand informed that the museum was, in a way, reborn in 2009. Dr PC Sharma, officer in-charge, tells us about the museum: "It attained international status after comprehensive upgradation in 2009. The museum showcases contemporary dolls from 32 countries, portraying artistic, socio-cultural and traditional costumes, and their ethnic/mythical features. There are as many as 456 dolls made of terracotta, soft wood, bones, plaster, and rubber. The collection has been gifted by doll-lovers from across the world and embassies. Also, the Chandigarh administration has received 27 new dolls from Vietnam and three from Turkey. The request was made to 35 countries and more dolls are expected to arrive soon," he says.
For art's sake
Apart from the audio tour and magnificent paintings by contemporary artists, the Museum and Art Gallery features ancient miniature paintings, metal antiques, rate textile paintings, Brahmanical and Gandhara sculptures. "We have paintings by MF Husain, Nicholas Roerich, Amrita Shergil...name it and we have it! There are as many as 1,100 paintings, a library and a research centre. The guided audio tour makes it a different experience altogether," says Seema Gera from the Government Museum and Art Gallery.
Scientific bent of mind
Though Natural History Museum was founded in 1968, it was named as Science Museum and then rechristened as Museum Of Evolution of Life, which since 2001 is called Natural History Museum. "It comprises four major sections: the dinosaur of India, human evolution, evolution of life and redefining our past. We have everything from tools used by early man to fossils to rare minerals of Himalayas. The rare fossil collection includes fossilised egg and dung of dinosaur, among many other interesting things," shares PC Sharma.
Open to all
Both, Chandigarh Architecture museum and Le Corbusier Centre, speak volumes of city's modern architecture. Deepika Gandhi, the in-charge of the museums, shares that they have been conducting workshops for government school teachers. "Most private schools have heritage clubs that take children to museums and educate them about the history. Not so much for government schools, though! So, that's why we arrange an audio-visual lecture and direct tours for them to Chandigarh Architecture Museum. We are presently working with 90 government schools," says Deepika.
While sharing that there are no NGOs or societies dedicated to generating a cult for museum culture in the city, she shares that the ones that exist are only too commercial and cater to a specific class, not the masses. "We are not selling or buying anything as of now, but we are renovating Le Corbusier Centre's second block and planning to open a research centre there. It will be open for researchers and scholars," she adds.
amarjot@tribunemail.com
---
In safe hands
Medhavi Gandhi is the founder-director of Happy Hands Foundation, which works towards cultural preservation and revival, and runs projects in 14 states of India. In 2014, a stint with heritage-education workshops led her to re-imagine the Indian Museum space and start up the Heritage Lab. "Through technology and museum education in schools, the Heritage Lab ensures an unforgettable experience of India's rich culture. We are currently associated with Sacred Heart Sr. Secondary School, St. Annes, Vivek High and YPS," she shares.
Top Stories