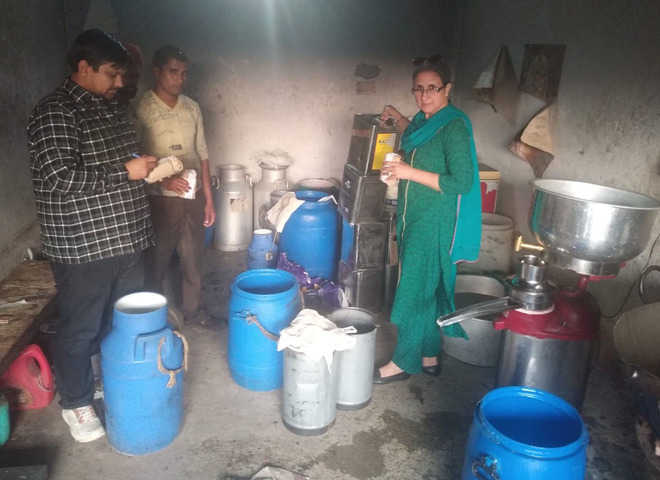 Manav Mander
Tribune News Service
Ludhiana, October 22
A food safety team, comprising designated officer Dr Andesh Kang and food safety officer Yogesh Goyal, collected 24 samples of sweets, milk, milk products and karyana goods in the past three days.
The team inspected various shops and collected samples from Purana Bazar, Mali Ganj Chowk, Ghas Mandi, Noorwala Road, Kali Sadak, Subash Nagar, Tajpur Road, Chandigarh Road, Ludhiana, Dugri, Kohara and Khanna.
The team collected samples of ladoo, besan ladoo, milk cake, rasgulla, kachori, curd, dal mong dhuli, rice, mustard oil, burfi, chana dal, desi ghee, butter, buffalo milk, burfi, milk, paneer, atta, masur dal, pan masala, khoya and sweet lassi.
All samples have been sent to the state laboratory for analysis and action will be taken after the reports are received. Members of the team issued improvement notices for hygiene practices and appealed to sweets shops to prepare their own khoya and use permitted colour within limit.
Food business operators were directed to follow good manufacturing practices and maintain hygienic conditions in the shops as well as in workshops. Sweetmeat shop owners were directed strictly to use permitted synthetic colours of ISI mark within the permissible limits of the FSSACT 2006 and its rules and regulations 2011.
Food business operators were also directed to purchase raw material from the authorised dealers of the company with proper bills/invoices and proper GST numbers, said Dr Kang.
Common adulterants and easy test
There are common adulterants being used in various products. One can easily perform simple tests at home to detect adulteration in food products.
Ghee: Can be adulterated with mashed potatoes and vanaspati and edible oil may be adulterated with angemon oil and mineral oil.
Test: Take 1 spoon of ghee and add an equal amount of hydrochloric acid and add some sugar to it. Shake it for one minute. The presence of vanaspati can be detected if the base of the acid shows dark red colour.
Khoya: Can be adulterated with paper, starch, blotting paper, fine flour, refined oil, skimmed milk powder and water.
Test: Boil the sample with some water. Cool it and add a tincture of iodine to it. If blue colour appears, it means the khoya sample has starch.
Milk: Can be adulterated with water, chalk, urea, soap and other whiteners.
Test: (a) Put a drop of milk on polished vertical surface. The drop of milk either stops or flows slowly leaving a white trail behind it. If it contains water, it will flow down fast without leaving any mark.
(b) Add a few drops of iodine to milk. The presence of blue colour confirms it is adulterated with starch.
Vark: Can be adulterated with aluminium foil.
Test: Just rub the silver foil on your hand by your thumb. If it's aluminium, it will stick to your hand. If it's pure, then nothing will remain.
Prepare khoya at home
Nothing beats if sweets and other eatables are made at home. The sweetness of homemade sweets is entirely different. One can easily prepare khoya for home consumption. For preparing khoya, milk is slowly simmered in a large iron kadai till all its moisture evaporates and it reduces to solid.