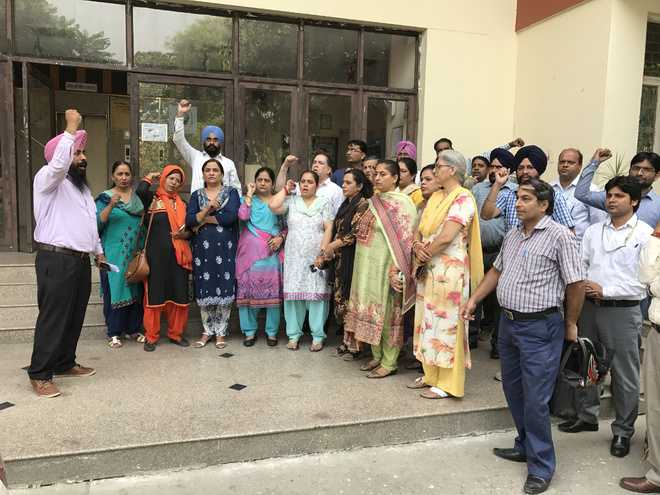 Our Correspondent
Ludhiana, October 11
As a part of the nationwide protest, employees of Life Insurance Corporation of India (LIC) held a demonstration during the lunch hour in front of all their offices under the Ludhiana division against the government move to disinvest 14.22 per cent of shares of General Insurance Corporation of India (GIC) through an initial public offer (IPO) aimed at earning around Rs 11, 000 core.
Addressing protesters, Amarjit Singh, secretary, PP Singh, president, and Maan Singh, joint secretary of the divisional unit of the Northern Zone Insurance Employees Association said In 1971, the then government had nationalised 107 private companies through an ordinance with the GIC of India as holding company and four general insurance companies — National, New India, Oriental and United India — as subsidiaries.
At that time, the government had invested just Rs 19.5 crore only. In 1999, the BJP-led NDA government allowed private companies in insurance business by amending the Act. The GIC of India, which was a holding company till then, became a reinsurance company as GIC-Re, they added.
The speakers at the demonstration said the public sector — GIC-Re — was providing reinsurance coverage to all insurance companies in India. The company was compensating losses of insurance firms due to natural calamities and various other reasons. By this act, losses of the common public were well protected, they added.
Out of the 50 major reinsurance companies in the world in 2016, the GIC-Re occupied 12th position, they added.
They said though the GIC-Re did not require any financial assistance or further capital infusion, the government had decided to sell stakes (in the GIC-Re) to private players through public issue, they said.
"The BJP-led government has also decided to go for disinvestment in all the four public sector general insurance companies," they alleged.
"The only beneficiaries will be foreign private reinsurance players. It will pave the way for corporates and multinationals to take away part of profits of the GIC-Re. After disinvestment, the company will have the interference of foreign and Indian corporates in its business activities," they said.
"Not only this, investments in government schemes for the welfare of public will be hampered," added the leaders.
Top News
Nijjar was killed in Surrey in British Columbia on June 18
Serious matter, cooperation must: Canadian PM
Says those occupying positions of influence are resisting th...
There are no safety provisions in the Act for areas lying do...
Suspended coach is pursuing molestation case against Haryana...