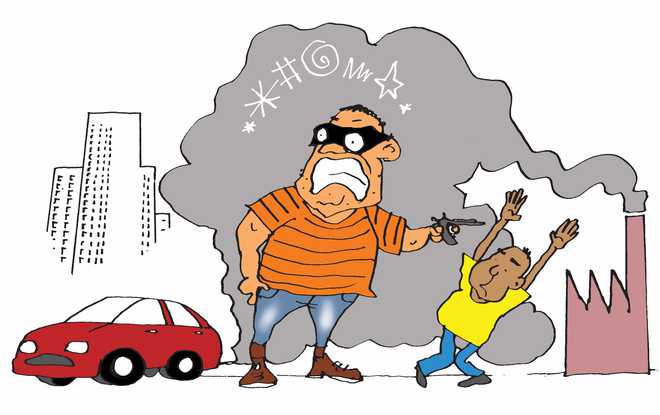 Tribune News Service
Ludhiana, May 21
Rising pollution levels have raised health concerns in the country with studies carried out in the West, including London, correlating hike in crime rate with rise in pollution levels.
According to a study conducted by the London School of Economics and Political Science, "higher levels of air pollution increase the rate of most types of crime…" It was found that a 10 per cent rise in the air quality index (AQI) increased the crime rate by 0.9 per cent.
Experts agree that correlation between the rising pollution and increasing crime rate is equally relevant here. "Yes, an increase in pollution levels can affect mental growth of people and can lead to stress. It is a kind of poisoning which can affect not only physical functioning but also takes away calmness, giving way to anger and hostility, which makes people commit crime," says Dr Ravinder Kala, a city-based psychologist.
There can be a strong link between pollution and crime, concurs Dr Sukhdev Singh, Professor in Sociology at the PAU. "In fact, the rising levels of pollution worsen the quality of water and air, which directly and indirectly causes health problems. These problems, in turn, lead to financial instability, mental health, etc. Several such problems increase discontent among people. All these factors can increase tension in life and are also triggers for criminal and unhealthy activity," he said.
While it would be in everyone's interest to curb pollution, governments would also save on expenditure on health services and policing, if they control pollution. However, the governments of several developing countries and even developed ones, such as the US, are not paying attention to this crucial aspect of saving the environment, said Dr Singh.