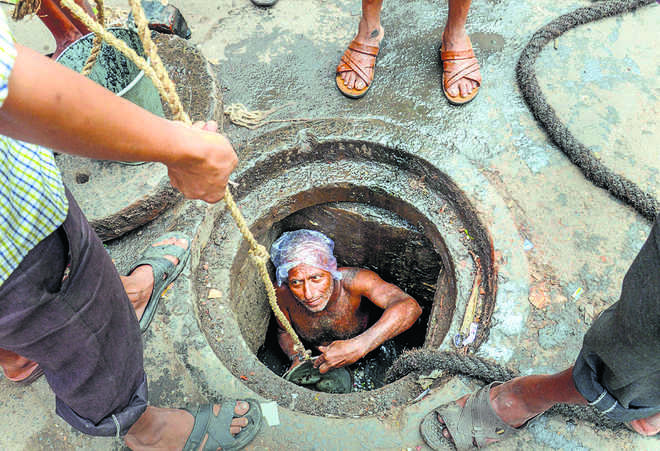 New Delhi, September 18
As manual scavengers die on a regular basis in various parts of the country, the Supreme Court today put the government in the dock, saying nowhere in the world people were sent to "gas chambers to die".
"Why are you not providing them masks and oxygen cylinders? In no country in the world, people are sent to gas chambers to die. Four to five people are dying due to this every month," a three-judge Bench headed by Justice Arun Mishra asked Attorney General KK Venugopal.
The Bench, which also included Justice MR Shah and Justice BR Gavai, termed it as the "most inhuman" way to treat human beings.
The scathing comments came during a hearing on the Centre's petition seeking review of its March 20, 2018, verdict diluting provisions of arrest and judicially creating a provision for anticipatory bail under the SC/ST Act.
Conceding that people involved in manual scavenging were dying day-after-day, Venugopal said deaths also happened due to potholes on roads but no action had been taken against the authorities responsible for it. — TNS
Improve Conditions
Despite the Constitution abolishing untouchability…, I am asking all of you, will any one of you shake hands with them? The answer is no. That is the way we are going on. The condition must improve. Bench