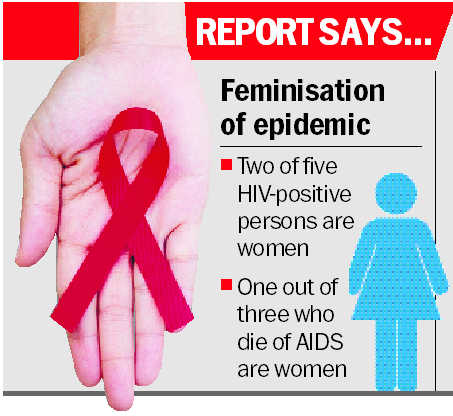 Aditi Tandon
Tribune News Service
New Delhi, September 14
India has more people living with HIV (PLHIVs) today than before and is witnessing more AIDS-related deaths than previously.
The latest HIV/AIDS Estimation Report-2017 released by the government today shows at the end of 2017, India had 21.40 lakh people living with HIV as against 21.17 lakh at the end of 2015.
AIDS deaths have risen from 67,612 in 2015 to 69,110 in 2017, while new HIV infections have declined marginally from 89,000 in 2015 to 87,000 in 2017.
At the current pace of progress, India will miss the global target of 75 per cent reduction in new HIV infections from the base value in 2010. "Annual new HIV infections have declined by more than 60 per cent since 2000. However, the rate of their decline has been much slower in recent years and far behind the pace needed to reach the 2020 target," the Ministry of Health says.
The good news is that adult HIV prevalence in the 15 to 49 year age group continues to decline, though the rate of reduction is slow. From 0.28 per cent adult HIV prevalence rate in 2015, India is down to 0.22 per cent today.
Chandigarh (0.20 per cent), Punjab (0.18 per cent) and Haryana (0.18 per cent) have a lower rate of adult HIV prevalence as compared to the national average.
Mizoram with 2.04 per cent rate has the highest HIV prevalence rate among adults in India; Jammu and Kashmir at 0.03 per cent rate has the lowest.
A major take-away from the findings is the continuing feminisation of the AIDS epidemic in India. Slightly more than two fifths (42 per cent) of the total estimated PLHIVs in India were females.
Females constituted 40 per cent of new HIV infections among adults and 31 per cent of AIDS-related deaths among them.
With 3.30 lakh PLHIVs, Maharashtra has the highest number of HIV-positive people in India contributing 15 per cent of the total PLHIV population.
Telangana leads India in new HIV infections, contributing 9,324 infections out of 87,000.
Nationally, 69, 110 PLHIVs died of AIDS related causes in 2017. AIDS-related deaths have dropped in all states, except in Haryana, Assam, Bihar, Jharkhand, Delhi and Uttarakhand.
The recent Supreme Court order de-criminalising same sex relationships among consenting adults is expected to help the MSM people report their disease and seek HIV treatment.
India has pledged to end AIDS by 2030. The just notified HIV/AIDS Prevention and Control Bill that guarantees legal rights to PLHIVs is also expected to help India achieve its anti-AIDS targets.