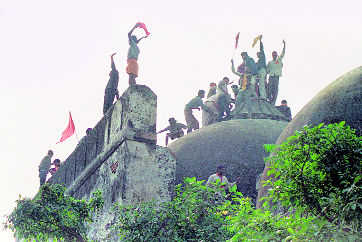 Satya Prakash
Tribune News Service
New Delhi, October 16
After 40 days of marathon day-to-day hearing, the Supreme Court on Wednesday reserved its verdict in the Ram Janmabhoomi-Babri Masjid land dispute.
A five-judge Constitution Bench headed by Chief Justice of India Ranjan Gogoi, hearing the matter since August 6, reserved the verdict and asked the parties to make written submissions within three days on 'moulding of relief' or narrowing down of relief.
The Bench, which also included Justice SA Bobde, Justice DY Chandrachud, Justice Ashok Bhushan and Justice S Abdul Nazeer, is seized of 14 cross-appeals against the Allahabad High Court's September 30, 2010, judgment equally dividing the 2.77-acre disputed land between Ram Lalla, Nirmohi Akhara and Muslims. While the appeals were filed in 2010 itself, the matter could not be taken up because of voluminous documents in six languages had to be translated into nglish, the official language of the Supreme Court.
The court finally took up the matter after mediation to resolve the dispute failed. A mediation panel of Justice FMI Kalifulla, Sri Sri Ravishankar and senior advocate Sriram Panchu, informed that parties could not reach an amicable solution. But later, the mediation was revised and it went on simultaneously. Hindus believe that Lord Ram was born in Ayodhya. During Mughal emperor Babur's rule, a mosque was constructed at the site in 1528 after destroying the temple existing there.
On December 6, 1992, the disputed structure was demolished by Hindu activists and since then there exists a makeshift temple at the site. Senior BJP leaders LK Advani, Murli Manohar Joshi, Kalyan Singh and Uma Bharti are facing trial in the case. The Bench will have barely four weeks to write the verdict as CJI Gogoi is to retire on November 17. The verdict is expected by November 15, which will be his last working day. "It will be a miracle to write verdict in four weeks," CJI Gogoi had said on September 26. On behalf of Hindu parties, senior counsel CS Vaidyanathan contended that Sunni Waqf Board and other Muslim litigants had failed to prove that Babur got constructed the mosque at the disputed site in Ayodhya.
Senior advocate Vikas Singh, representing the All-India Hindu Mahasabha, referred to various aspects of the Allahabad High Court judgment and said there has been long faith and belief on the part of Hindus with regard to the sacred nature of the birthplace of Lord Ram. Senior lawyer Ranjit Kumar, appearing for Hind devotee Gopal Singh Visharad, said that Muslims had failed to prove their case and the lawsuit filed by the Sunni Waqf Board and others ought to be dismissed as Visharad and other Hindu devotees had "pre-existing rights to worship."
On behalf of Muslim parties, senior counsel Rajeev Dhavan demanded restoration of status quo ante as on December 5, 1992, before the demolition of the mosque, claiming it was a mosque.
What the three main parties contend
Ram Lalla
Faith of millions of Hindus attached, who believe Lord Ram born in Ayodhya
Hindus praying there for centuries
ASI's excavations confirm temple beneath mosque
Muslim parties' adverse possession claim proves land not with them earlier
Nirmohi Akhara
Devotee of Lord Ram for several centuries; has management and "shebaiti right" over disputed land
Land in its possession for several decades — Muslim parties too admit it
Puja done by pujari appointed by it in the past
Sunni Waqf Board
Temple wasn't ever razed to build the mosque; it's possible that it was a vacant plot
Ram born in Ayodhya, but not at the disputed site
Once a mosque always a mosque (relies on historians' report, as also adverse possession)
Status quo ante Dec 6, 1992, demolition of Babri mosque be restored
2nd-longest hearing
Ayodhya case has become India's second longest oral hearing, the first being the historic Keswananda Bharti (1973) case that went on for 68 working days and led to propounding of the basic structure theory