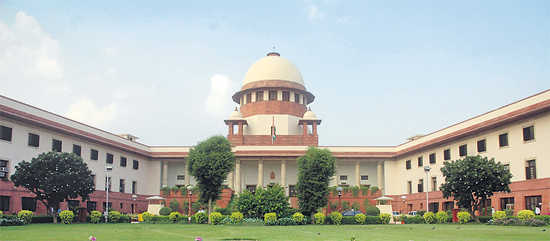 Tribune News Service
New Delhi, October 22
The Supreme Court on Tuesday transferred all cases related to linking of social media accounts with Aadhaar pending in different high courts to it and decided to consider if intermediaries were liable to cooperate with government agencies in decryption.
Allowing the transfer petition of Facebook, a Bench headed by Justices Deepak Gupta asked the top court's Registry to place all connected matters before Chief Justice of India for listing before an appropriate Bench in January 2020.
It asked the Centre to submit its report in January on notifying the new rules aimed at addressing the issue of misuse of social media and responsibility of intermediaries — i.e. social media platforms — to decrypt messages.
On behalf of Tamil Nadu Government, Attorney General KK Venugopal said he had no objection to Facebook's petition seeking transfer of cases pending in various high courts to the top court.
Asserting the government agencies' right to seek decryption for crime prevention and investigation, Venugopal said the Information Technology Act empowered the agencies to do so.
"There are also elaborate rules. These provisions have not been challenged. So for WhatsApp and Facebook to say it is beyond our powers is unacceptable", he said, adding the Centre and state government has power to direct their agencies to intercept, monitor or decrypt any information generated, transmitted, received or stored in any computer resource.
"They (WhatsApp and Facebook) can't come into the country, establish a system which is subject to decryption and then say it can't be done and that they can't facilitate decryption...this is a penal offence, a very serious one", Venugopal said.
Venugopal was supported by Solicitor General Tushar Mehta, representing the Centre. It was not a ploy to breach privacy of individuals but was an attempt to protect national security, Mehta said rejecting the petitioners' allegations on violation of right to privacy which was declared a fundamental right in 2017.
"It's a door lock. You are daring them to open. They are saying open it yourself. Whether they are obligated to give the key is the question", the Bench said.
Noting that Internet has emerged as a "potent tool to cause unimaginable disruption to the democratic polity", the Centre had on Monday told the Supreme Court that the rules governing social media needed to be revised for effective regulation of intermediaries in view of ever growing threats to individual rights and national security.
In an affidavit filed in the top court, the Ministry of Electronics and Information Technology said it needed three months to frame guidelines for social media in order to check misuse of technology for criminal activities.