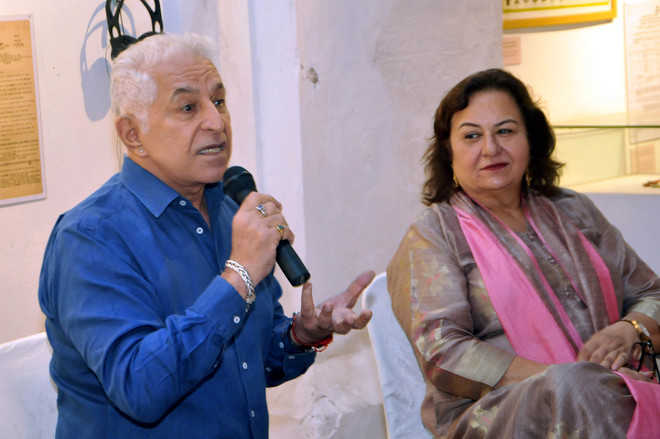 editorial@tribune.com
Divya Sharma
Tribune News Service
Amritsar, August 18
The Partition Museum concluded its two-day event — 'Journey through Sindh: A Lost Homeland'— today. The event was organised on the second anniversary of the museum.
The event saw members of the Sindhi community recalling their roots, lost homeland and culture, impact of the Indo-Pak partition on them.
On the second day, Bollywood actor Dalip Tahil in conversation with Sunaina Anand and Pinky Anand, trustees of The Arts and Cultural Heritage Trust, shared his Sindhi origin, memories, migration of his family and its impact.
"It's a great initiative on part of the Partition Museum to talk about the community. Sindhis were refugees who migrated to different places across the world. They had to rebuild themselves. Sindhis have a rich heritage, but they suffered massively during the Partition. My father was an Air Force officer at the time of partition. I am proud of my Sindhi roots, " he said.
He said there was a greater level of awareness among the present generation as compared to the previous generations. "To my mind, when the Partition happened, the generation of my parents worked to ensure livelihood and better life for their children. The present generation is curious to know their roots, understand their origin, and its importance," he said.
The Mission Mangal actor also discussed the filming and leverage of shows on the masses in addition to elaborating on the Sindhi identity and community, his hopes for the future and the glory of the past.
"Buniyaad had a major impact on the lives of people. My mother used to cry while watching the show. The generation had gone through trauma. There is a need to tell stories of Sindhi people and the Partition experience."
Earlier, in the day, experts held an extensive discussion on Sindh, cultural aspects, food, besides other elements of Sindh homeland.
Aruna Madnani, one of the panellists, spoke about her extensive travels across Sindh. She elaborated on Sindh's cultural aspects like the clothing, Sindhi philanthropy, food, homes and havelis. She presented photographs of her travels to Karachi, Shikarpur, Sukkur, the Indus, Mohenjo Daro in addition to dargahs of Sufi saints. She concluded by reading the verses of Abdul Shah Latif, the great Sindhi poet.
Pratap Pinjani spoke in detail on the efforts taken by the National Council for the Preservation of Sindhi Language in preserving the language and its literature. He delivered his talk in Sindhi.
Henna Kalro spoke about her book 'Flavours of Sindh', the process of gathering Sindhi recipes from across the Sindhi community of the country and connecting to the culture and community through food. Her second book 'Glimpses of Sindhiyat' looks at rituals and traditions of Sindhis.
Later, Partition Museum CEO Mallika Ahulwalia proposed a vote of thanks.
Top Stories