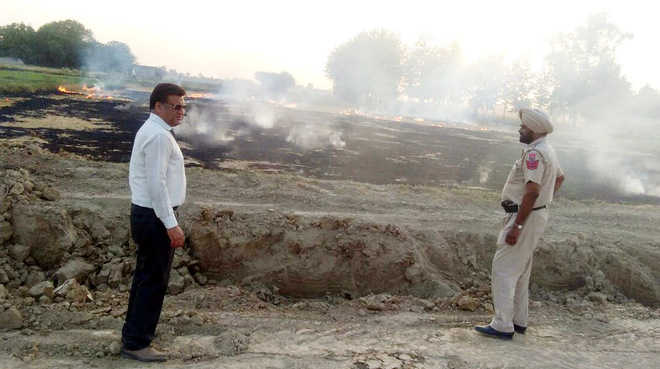 GS Paul
Tribune News Service
Amritsar, May 28
Satellite images showing the highest number of stubble-burning cases in the holy city post wheat harvesting has set alarm bells ringing. As per a report of the Punjab Remote Sensing Centre (PRSC), between April 10 and May 22, a total of 11,005 cases of stubble burning were detected in the state, with Amritsar topping the list (1,033 cases), followed by Sangrur (950) and Ferozepur (823).
In Bhatinda, Gurdaspur, Ludhiana, Moga and Tarn Taran, more than 700 cases were found.
Last year, a total of 13,441 instances of stubble-burning were detected during the wheat harvest season. As per an application of the Central Pollution Control Board, the air quality index (AQI) on May 28, 2018, (at 4 pm on the basis of average of past 24 hours) was 228, having prominent pollutants of PM 2.5.
The remarks were: 'poor air quality', with a breathing discomfort warning on prolonged exposure.
Amritsar Deputy Commissioner Kamaldeep Singh Sangha said the report of the PRSC was disappointing. On his directions, teams led by SDM Ajnala Rajat Oberoi on Monday visited the Ajnala belt, only to find burnt stubble along fields.
"Offenders will be challaned. In the past one month, we have issued 25 challans in Ajnala alone," he said. The Agriculture Department has been advising farmers to dispose of stubble by reaping and mixing it with soil, suggesting them to take the help of various machines, including straw chopper, straw baler and happy seeder machines that sow wheat. Recently, on the recommendation of Punjab Agricultural University, Ludhiana, the government had mandated the attachment of super straw management system with self-propelled combine harvesters.
It cuts the straw into small pieces and spreads the same, which means farmers need not burn paddy straw before sowing the next crop.
The Punjab Pollution Control Board (PPCB) has spent more than Rs 75 lakh on awareness drives, but in vain. PPCB chairman Kahn Singh Pannu said though there had been a decline in the number of stubble-burning cases this year, the air quality index of the state was "poor".
Pannu said awareness drives would not serve the purpose until district administrations step in the picture.
"The cases have gone down by 25 per cent as compared to the previous year, but a lot more needs to be done. The farmers were apprised of alternative ways like converting the residue into manure, but they chose to burn the stubble," he said.
Chief Agriculture Officer, Amritsar, Dr Dalbir Singh Chinna claimed that a few accidental fires were reported, but around 40 per cent of the farmers had not burnt any stubble this year. "There should be a cheaper alternative," he added.
Gurvel Singh, a farmer living at Thatha village, said: "Until the government comes out with a policy to supplement the income of farmers, the latter won't stop."
"The crop residue will not decompose and those wanting to sow vegetables will not wait that long. The government should announce a subsidy on happy seeder machines or other chopper machines that cost anything between Rs 1.5 lakh and Rs 2 lakh," he added.
Top News
Tensions flared between India and Canada after Trudeau's exp...
The bureau had launched an investigation into the matter bas...
Rudrankksh shoots 632.5, Tomar 631.6 and Panwar 629.6 to agg...
Victim claims her husband had borrowed Rs 1,500 from Pramod ...
Chinese consul general says relations between the two countr...