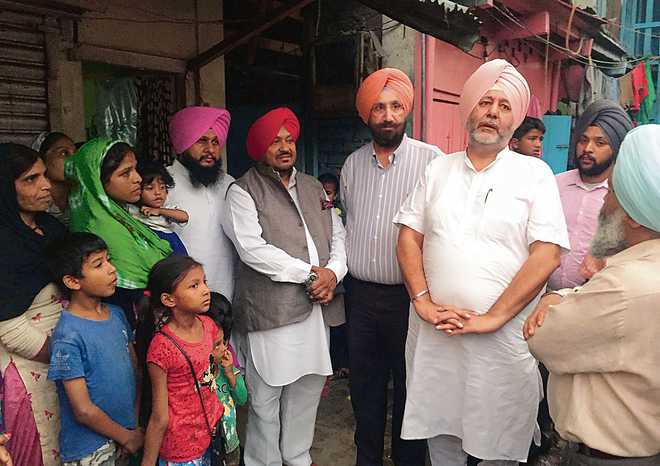 Jupinderjit Singh
Tribune News Service
Shillong, June 19
"We are on the poll rolls and have Aadhaar cards, ration cards and electricity connection in our names. We have the right to vote and elect a government in Meghalaya and yet are 'illegal residents' who have been told to leave," a dejected Gurjit Singh, the president of Gurdwara Nanak Darbar, told a high-level delegation representing the Punjab Government late this evening.
Nearly 350 Sikh families residing on both sides of Punjabi Lane — mostly in one-room tenements — were issued eviction orders last month. Ever since, the community has been living in fear. To find a way out, Punjab Chief Minister Capt Amarinder Singh sent a delegation to Shillong headed by minister Sukhjinder Singh Randhawa, also comprising MP Jasbir Singh Dimpa, MLAs Kuldeep Singh Vaid and Kulbir Singh Zira and Secretary (Planning) DS Mangat as members.
Shillong Sikhs came out in droves to receive the delegation that reached late in the evening after overcoming a 'hiccup'. Citing Section 144, Meghalaya Police officials told the delegation it did not have the requisite permission to visit Punjabi Lane. Adamant, minister Randhawa announced they would make it on their own in private vehicles. Subsequently, the local administration agreed to provide police escort to the delegates. Punjabi Lane area has been sealed by paramilitary forces. This was necessitated after violent clashes between local Sikhs and members of the Khasi tribe.
Fifty shops in the area were sealed by the district council some months ago, depriving the owners of their livelihood — Krishna Kumar and his son Sandeep Singh being among them. "I am now employed with a motor parts shop," said Sandeep Singh.
Waving documents, Gurjit Singh pointed out that as per the rules, non-tribals could not become owners of land. "At the most, they can take land on lease for 15 years. For that, they need to submit property documents. To run a shop too one has to take a licence from the district council, again on the basis of property documents. The majority community holds these rights. The political leadership mainly belongs to the Khasi tribe," he explained.
Randhawa assured support to the Sikh settlers. The delegation is scheduled to meet Meghalaya CM Conrad Sangma tomorrow. "Any infringement of civil right of Sikhs, who moved to Shillong about 200 years ago, will not be allowed," Randhawa said.
Appreciating CM Sangma for his efforts to defuse tension, he said Capt Amarinder had spoken to him (Sangma), urging that the safety of Sikh families be ensured. "Sikhs have contributed immensely to the state and should be integrated with the locals," another member said.