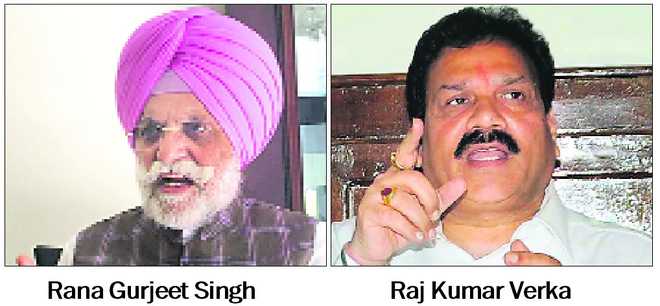 Tribune News Service
Chandigarh, July 20
Even as the Chief Minister Capt Amarinder Singh has said he will keep the power portfolio with him for time being, indicating that he was not going for induction of a new face in place of Sidhu, the hopefuls have intensified their efforts to get the Cabinet berth that has fallen vacant.
Various caste, religion and region factors are at work to fit in to the vacant slot. With the Central party leadership caught in its own crisis, the Chief Minister would have his complete say in deciding the future course of action.
Those eyeing the vacant slot include Kapurthala MLA Rana Gurjeet Singh, who had to resign in January 2018, after his name figured in the sand mining auction row. Rana has been lobbying for his rehabilitation and even met Rahul Gandhi during his visit to Punjab.
Amritsar MLA and Chairman of Punjab Warehousing, Raj Kumar Verka, is also eyeing the slot of state power ministry, said, "Sidhu cannot overrule the Chief Minister. He has resigned after not accepting the responsibility of a new ministry allocated to him by the Chief Minister. He can also move to Delhi for another leadership role since he had campaigned extensively throughout the country during the Lok Sabha elections."
A Dalit or an OBC leader from Doaba could also be adjusted. The communities have been demanding due representation in the Cabinet. Some of the leaders had even approached Rahul on the issue.
However, sources close to the Chief Minister said nothing would happen till the byelection to Jalalabad and Phagwara Assembly segments. Ruling out replacement for Sidhu in the Council of Ministers, a Cabinet minister said if any expansion happened, it would be major reshuffle with two to three ministers being dropped in place of new faces.
Top Stories