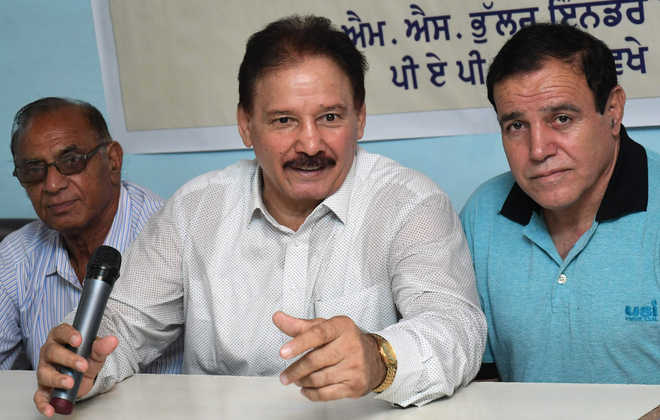 Daman Singh
Tribune News service
Chandigarh, September 11
Indian stars Bajrang Punia and Vinesh Phogat would be on show when wrestling's National Championships return to Punjab after a gap of 24 years this November. Also in action would be two-time Olympics medallist Sushil Kumar and Asian Championships gold medal winner Navjot Kaur, among others. The event would be held at MS Bhullar Indoor Stadium at the PAP Complex in Jalandhar from November 29 to December 1.
The competition would also help in determining the country's representatives at the 2020 Tokyo Olympics. "After nearly 24 years the Wrestling Federation of India has given Punjab the privilege of hosting the National Championships and we'll do all we can to live up to the expectations," Punjab Wrestling Association president Kartar Singh said here today.
A boost for Punjab
Kartar, who won a gold medal each at the Asian Games in 1978 and 1986, said the return of the Nationals to Punjab would not only help boost the progress of the sport in the state but also narrow down the widening gap between Haryana and Punjab. "Punjab has a storied past when it comes to sports, but there is no doubt that in the last decade or so Haryana has been on the front foot," said Kartar.
Widening gap
"The Haryana government has been very supportive of the players, taking care of them in every way possible and giving away huge prize money to the players who bring laurels to the state," Kartar explained. "The state has not only promoted wrestling but also other sports all along these years," he said. "The government has provided for various facilities like quality infrastructure, good food to athletes... It is the state government's role to look after all these requirements," added the former Olympian.
Reza onboard
Meanwhile, Punjab has opted for the services of Iranian wrestling coach Moazen Gholam Reza to prepare its wrestlers for the Nationals.
"I met Moazen last December and asked him if he would like to be part of this project to which he complied with," Kartar revealed.
Asked about India's medal prospects at the upcoming World Championships, Reza said: "Maybe one or two medals this time. Bajrang is looking the hottest prospect right now. The other guy, Sushil, I think it's difficult because I don't see him training enough now. Earlier he was the real deal."
"Maybe in four or five years from now, India will be heralded as the giant of this sport looking at the growth it has made over the years and may even be able to win gold at the Olympics as well," Reza added.
Top Stories