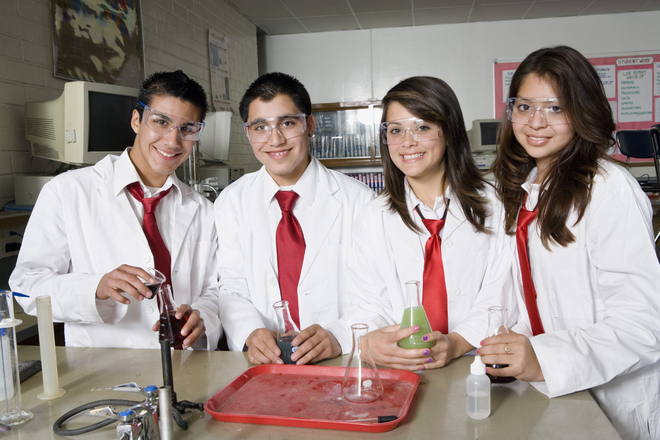 editorial@tribune.com
Usha Albuquerque
With almost all major entrance exams, including JEE, AIPMT, for professional courses getting over, several students of the Science stream and their parents are looking for options just in case they miss the bus for the coveted BTech and MBBS courses. Every year a vast majority of students who take these tests either do not make the grade, or have to choose institutes of dubious reputation. Many also make a complete shift and opt for Commerce streamrather than into looking at the many alternatives available in the realm of science.
If you have a scientific or technical bent of mind, like the challenges of problem solving and working with different kinds of tools and materials, you don't need to jump into a business course. Today science and engineering is not confined to the obvious spheres of physics and chemistry, or mechanical, chemical and electrical, but has a vast scope in many diverse and interesting fields of work. Here are some interesting options that are worth checking out:
1 BSc in Food Technology/ Food Science
This programme draws from many disciplines such as biology, chemical engineering, and biochemistry. It covers research and investigation into a variety of foods properties and compositions and deals with the techniques and principles involved in processing and preserving food substances. The application of food science and technology helps in manufacturing safe, wholesome and nutritious food products. The production, preservation, processing and handling, and the canning and packaging of food materials requires food scientists and technologists, chemists, bio-technologists, technicians and engineers.
Eligibility: Plus II with physics, chemistry, and biology. The BTech courses may require maths. You can also take up MSc in Food Processing Management, after a general BSc degree. Some universities in India offer degree courses in home science, food technology and food science and in specialised areas like fisheries, or dairy sciences. The duration of these courses is normally three years, and all courses require a background in science.
There are also a variety of courses, short-term certificate, craft and diploma courses at various polytechnics, food-craft institutes and universities.
Prominent courses and institutes:
Food Science and Technology:
University of Mysore, Mysore.
Central Food Technology Research Institute, Mysore (with branches in Karnataka and Mumbai).
Kerala Agricultural University, Thrissur
Tamil Nadu Agricultural University, Coimbatore
Fruit Technology:
Krishi Vishwa Vidalaya, Himachal Pradesh.
Fruit Technology Institute, Lucknow
Sugar Technology:
National Sugar Institute, Kanpur.
Fisheries Science:
Central Institute of Fisheries Education (with four training centres in Barrackpore(WB); Kakinada (AP); Lucknow and Mumbai.
Dairy Technology:
National Dairy Research Institute, Karnal & Bangalore
The road ahead:
You can start working directly after graduation, or get a PG degree or diploma in a specialised food area or an MBA in agri/food business management. With professional training you can find jobs in food processing companies, food research labs, with food wholesalers, retailers and even in hotels, restaurants, hospitals and other catering establishments. Companies like Britannia, Nestle, Amul, ITC, Pepsi and many others recruit food scientists/technologists. Public sector undertakings like FCI also recruit people in this field.
2 BSc (H) Polymer Science
This is a three-year inter-disciplinary science degree that imparts knowledge and training in the production and uses of polymer materials. The course covers fields like polymer processing, polymer chemistry, polymer blends and composites, introduction to fibre science and rubber technology, polymer in environment, research and development, marketing and sales, and polymer waste management etc.
Polymer science is a specialised field of chemistry which deals with moulded materials, plastic, as well as synthetic fibres. It is an important and growing field as its applications are versatile particularly in industries related to plastics, packaging, sports, medicine, perfumes and preservatives, plastic materials etc.
Eligibility: Plus II with physics, chemistry and mathematics and minimum 60 per cent marks. There are a few colleges offering this course, among them is Bhaskaracharya College of Applied Sciences at Delhi University.
After getting a BSc in polymer science, it is best to complete MSc in Polymer Science before looking for employment. You can also take up MSc Polymer science after BSc in any subject. Some of the institutes offering this course include Chaudhury Charan Singh Agricultural University, Hisar and Meerut, Mohalal Sukhadia University, Udaipur, Wadia College, Pune. The Central Institute of Plastic Engineering & Technology (CIPET) with 16 centres across the country conducts specialised academic programmes at doctoral, PG, UG, diploma and post diploma levels.
The road ahead:
You can work with polymer and plastics manufacturing industries, in petrochemicals, and engineering plants and in the petroleum and natural gas sector such as in the Oil and Natural Gas Corporation (ONGC), Indian Oil Corporation Ltd., Gas Authority of India Ltd., Reliance Industries Ltd., Indian Space Research Organisation, Maruti, Volvo, JK Tyres, Asian Paints etc
3 BTech in carpet and textile technology
A specialised four-year programme in Carpet and Textile Engineering is offered at the Indian Institute of Carpet Technology, Bhadoi, UP, set up by the Ministry of Textiles, which deals with the scientific techniques of producing and manufacturing different forms of yarns and textiles for the carpet and textile industries. The main aim of this course is to design and control all aspects of production process, machinery, products and fibres. Students are also taught to handle advances in carpet technology, home textile technology and textile design as also management, testing and quality control.
Eligibility: Plus II with physics, chemistry and maths. Admission is through JEE.
The road ahead:
Jobs for graduates from this field are mainly with the textile and carpet industries, in marketing and merchandising of carpets and textiles, in textile design, with fibre and yarn manufacturers and in the craft sector.
4 BTech in printing technology
This four-year course teaches students the basics of printing technology, including performing typesetting, designing, pasting, plate making, image setting, camera work, as well as computer graphics and digital printing.
Eligibility: Plus II with physics, chemistry and maths. For the BTech/BE course, admission is through all-India level tests (like AIEEE) or the state-level engineering competitive examinations. Diploma holders can get admission in second year directly through LEET.
Several universities offer degree courses in printing technology. Some of these are:
Guru Jambeshwar University of Science and Technology Hisar
Kurukshetra University, Kurukshetra
Somany Institute of Technology and Management Rewari, Haryana.
Harcourt Butler technological institute, Kanpur
Anna University, College of Engineering, Guindy, Chennai
Six regional schools of printing technology
The road ahead:
There is a huge demand for qualified printing professionals in India, particularly in printing and publishing companies, media houses, advertising agencies, newspapers/ magazines, government presses, machine manufacturers and packaging industries. There are also jobs in government in postal presses, currency presses, university presses, bank-owned presses, test-book presses, stationary printing presses, etc. There are also opportunities for doing freelance work, or setting up one's own DTP set-up.
5 BDes in Footwear Design & Production
This four-year programme combines the design and technology elements of footwear production. This course is offered by the Footwear Design and Development Institute that has campuses in Noida, Fursatganj, Chennai, Kolkata, Rohtak, Chhindwara, Jodhpur, and Guna. The aim of the programme is to create manpower in the field of footwear design, production and merchandising inculcating knowledge and skill about the latest technology and modern practices, relevant to the footwear industry. The course covers product knowledge, material understanding, design, styling, product development with the usage and exposure of high-end software and equipment, basic engineering technologies, the intricacies involved in the manufacturing operations along with management subjects like economics, principles of management, marketing, HRM, project management etc.
Eligibility: Plus II/intermediate with subjects from any stream. Although science is not necessary for this course, a science background could be useful as footwear is the most essential accessory requiring sophisticated machinery and technically skilled professionals.
The Central Footwear Training Institute, Chennai, and Central Institute of Footwear technology, Agra also offer different courses in footwear technology.
The road ahead:
With the ever-increasing demand for footwear in leather, synthetic and variety of different materials, as well as for all diverse purposes, and with big players both national and international such as Reebok and Nike, Bata making huge investments in this area, there will always be jobs for the professionally trained, in footwear industries, the retail sector, buying houses and footwear accessories and related industries.
6 BSc Forestry/ Environment Science
These two or three-year degree programmes broadly cover forestry, wildlife and environment protection and provide the understanding and knowledge of various principles and concepts of science and social sciences, as the case may be, in order to protect and preserve environment. While forestry specialists work to maintain and regenerate forestry resources, environmental scientists also conduct research studies in order to develop theories or methods of abating and controlling the sources of environmental degradation.
Various universities and institutes offer training in these fields. Courses in forestry and environmental sciences at graduate and post-graduate levels are available in Bangalore, Delhi (JNU and IP University) Garhwal, Indore and Pune universities among others. Specialised courses in subjects related to the environment, ecology, wildlife and forestry are available at the Salim Ali School of Ecology, Pondicherry, The Wildlife Institute of India, Dehradun, the National Institute of Environment, Lucknow, the Indian Institute of Forestry Management, Bhopal among others.
Eligibility: Plus II with science, preferably biology.
The road ahead:
With the widespread realisation of the need for environmental planning and control, large numbers of business organisations are going into environment protection services as well as the manufacture and sales of environment friendly goods. Universities and the Ministry of Environment, and institutes such as the Bombay Natural History Society, the Hakine Institute, the Cancer Research Institute, the National Institute of Oceanography, the National Institute of Virology, Botanical Surveys of India and so on, also offer opportunities to environmentalists, particularly in the area of research and study programmes focusing on industrial pollution, waste management and alternatives to chemical technology. There is huge scope in research and development with international agencies and environment and wildlife organisation around the world. Various non-governmental as well as governmental and international organisations employ forestry and environment experts as consultants in spreading awareness regarding the deterioration of the forest cover, and for the preservation of natural resources.
The above options are just some of the numerous opportunities for those looking for a career in the sciences. A degree in science can enable you to work with organisations in industry, engineering, information technology, as well as stimulating careers in research and the building of knowledge in any particular field of science. While many scientific jobs are research-oriented and are located in universities or institutes, a number of jobs involve the application of science to an industrial and engineering problem.
So before you throw away these options and plunge into the BCom and BBA courses, think about what you love to study and plan your career goals accordingly.
Top Stories