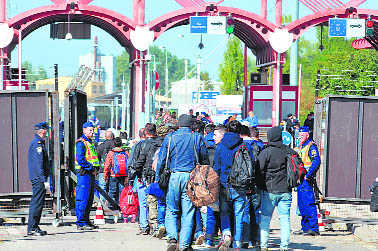 Zakany (Hungary), October 1
A small gap in coils of newly laid razor wire is all that remains of the Zakany-Botovo border crossing between Hungary and fellow European Union member Croatia, as Budapest prepares to close off another route for migrants flocking to Europe. Heavy machinery is clearing trees and a 3-metre-high fence is taking shape along the line of the razor wire.
The border, still traversed by thousands of migrants daily en route to Austria and Germany, could be sealed in a matter of minutes, potentially diverting the migrants into tiny Slovenia or stranding them in Croatia, where authorities are struggling with the scale of the influx.
Prime Minister Viktor Orban, who has already thrown up a fence to shut down the migrant route over Hungary's southern border with Serbia, said last week the closure was imminent, and speculation is rife that it might follow his return from the United Nations General Assembly in New York on Thursday. — Reuters