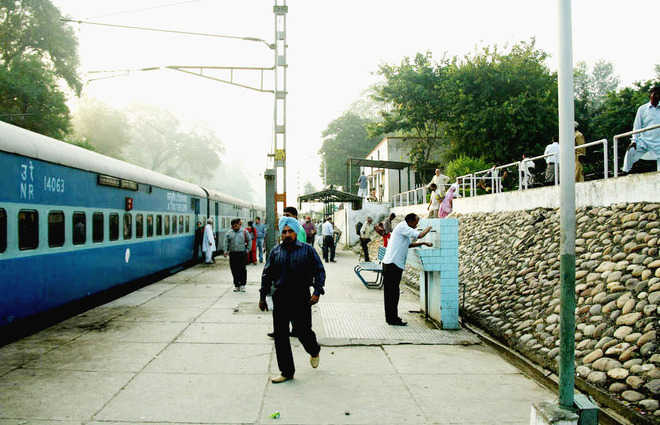 editorial@tribune.com
Rajesh Sharma
Una, June 15
The Una railway station is being provided with a second platform with a foot overbridge, which will help connect both first and second platforms at a cost of Rs 5.9 crore. For the same, the Railways has completed the tendering process. Another sum of Rs 1.5 crore has been sanctioned for the construction of passenger waiting hall, help counter, deluxe toilets, automatic public address system and special routes for differently abled.
With five trains making back and forth trips on the station every day and one weekly train shuttling between Amb-Andaura to Nanded Sahib, the station is presently cramped for space. On Sundays, two trains arrive at the station on the same time in night. In the absence of the second platform, the passengers of the second train pass through the train standing on the stand-alone platform to access the station's out gate. Also, those moving to board the train on the second rail line take the same route.
Additional Divisional Railways Manager (ADRM), Ambala Division, PK Gupta visited the station along with other officials on Friday to take a first-hand account of the prevailing facilities for passengers and the proposed works.
The second platform would be 550 meters long and 12 meters wide, while the footover bridge would be 4 meters in width. The process for award of tender works would be completed shortly, he added.
The railway station is one of the two stations in Himachal Pradesh and among the 1,253 stations countrywide to be included in the 'Adarsh Station Scheme' of the Indian Railways for upgrading passenger facilities.