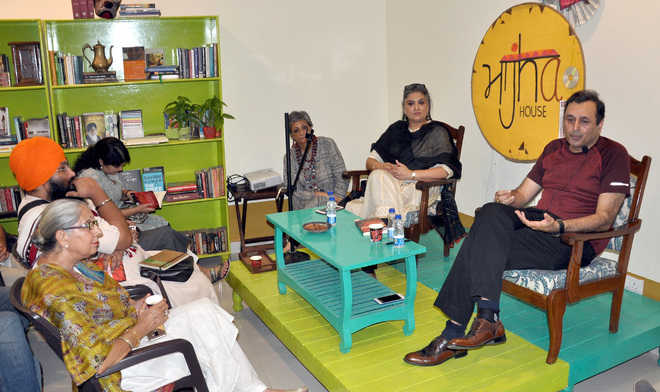 Neha Saini
Tribune News Service
Amritsar, August 4
Revisiting some of the tragic stories during the aftermath of the assassination of former Prime Minister Indira Gandhi, noted author Vikram Kapoor shared that it was not an individual's assassination but a lot of intangible things were also killed. "Trust, love, friendship, faith and peace were also assassinated in 1984," he said. This is the reason he cites for naming his book — Assassinations: A novel on 1984.
Attending a discussion on his book at the Majha House and the overall impact of the 1984 riots and the delayed justice, Vikram said any discussion on the subject even today stirs up a controversy. "Almost three decades of probes, special commission reports and political promises, and nothing has come out of it. The judiciary had been absolutely silent and some kind of swift punishment at the time might have addressed some of the resentment against the state," he says.
Kapoor, who celebrates the resilience and courage of all the victims of the 1984 riots in his book, says that he is not very optimistic about the government's intention of providing closure to people through serving justice. "The entire political class seems to lack any intent to anything about it, despite the numerous political statements. That's why, even when Congress was not in power at the Centre, the justice has still been delayed in the matter."
Talking about the 'mob mentality', Kapoor said that in case of 1984, the government was the mob. "In such a situation, the most dangerous person is the educated, aware individual, who watches everything and yet chooses to remain silent," he observed.
Kapoor's book is a compilation of personal essays and stories based on the incidents during the riots and its following years.
Written in 2017, the book captures the turbulence in areas most effected including Delhi and chronicles the lives of those caught in the web of violence and hate.
Top News
In Mizoram, Zoram People's Movement is locked in close race ...
According to Defence Ministry, 98 per cent of the total proc...
India has constituted a probe team to investigate allegation...
Nikhil Gupta, 52, has been charged with murder-for-hire in c...
GDP growth in the first quarter of current fiscal — April-Ju...