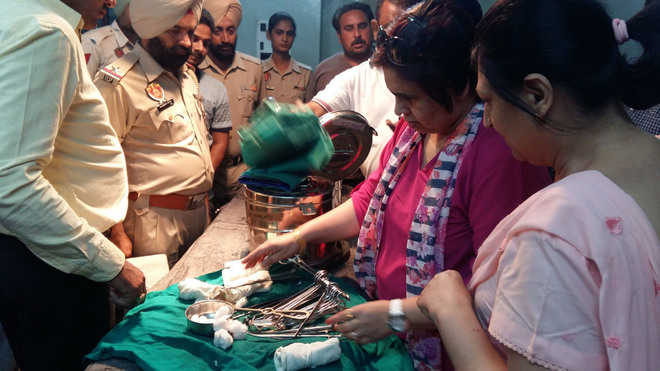 Tribune News Service
Amritsar, April 19
The local police have arrested a woman doctor under Pre-Conception and Pre-Natal Diagnostic Techniques Act (PCPNDT) here today. A case was registered after a decoy patient sent by a private agency hired by the state government to check female foeticide managed to give Rs 15,000 to a doctor at Bharat Hospital in Chheharta for a sex determination test and later for abortion if the fetus was a girl child.
The woman decoy of the agency had visited Dr Shupla Sharma of Bharat Hospital yesterday and talked to her about having two daughters already and her intentions to abort the child if the current pregnancy, too, was a female fetus. Later, the money was handed over to the hospital. The doctor even sent the decoy patient to a sex determination facility. However, the diagnostic centre refused to conduct the test, claimed a health official.
A team led by Civil Surgeon Dr Jai Singh and accompanied by the decoy patient visited the hospital and recovered the marked currency notes from the doctor. SHO of Chheharta Police Station, Arun Kumar, said, "We have received a written complaint from the Civil Surgeon who is the appropriate authority under PC-PNDT Act regarding the acceptance of money for conducting abortion by the woman doctor."
He said a case under relevant sections of PC-PNDT Act had been registered against Shupla Sharma and she had been arrested. He said the arrested doctor would be produced in the court tomorrow under the charges which are non-bailable and non-compoundable.
Top Stories