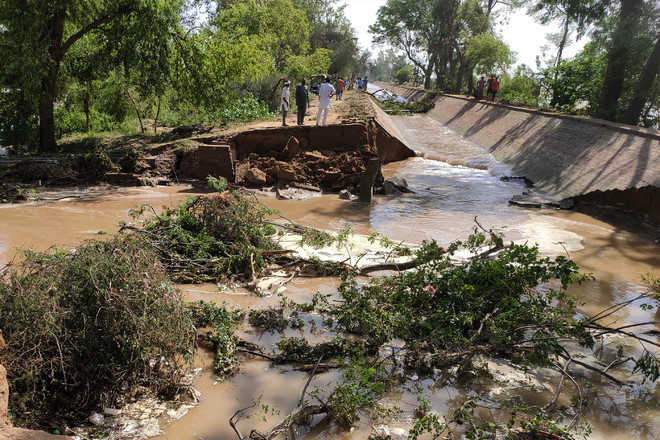 Bathinda, june 13
Following a storm, a breach was reported in a tributary of the Sirhind Canal near Chak Attar Singhwala village on Wednesday. The breach occurred after a number of trees were uprooted and fell into the tributary, blocking the flow of water.
Following the breach, water entered the fields of nearby villages, affecting paddy cultivation. When farmers came to know about the breach, they rushed to see their fields.
Parkash Singh, a farmer, said: "Due to a breach in the tributary of Sirhind Canal, we have suffered a great loss as water entered our fields and damaged the crops. Mud has also gathered in our fields. Now, paddy transplantation will be delayed further."
Farmers also demanded adequate compensation for the loss caused due to the breach. Jagmeet Singh, SDO, Canal Department, said: "I have been keeping a close tab on the developments at the breach site since midnight. There was a breach last night after which trees were uprooted and fell into the tributary of Sirhind Canal."— TNS
Top Stories
After bhoomi pujan in Ayodhya, Bhagwat says have fulfilled r...