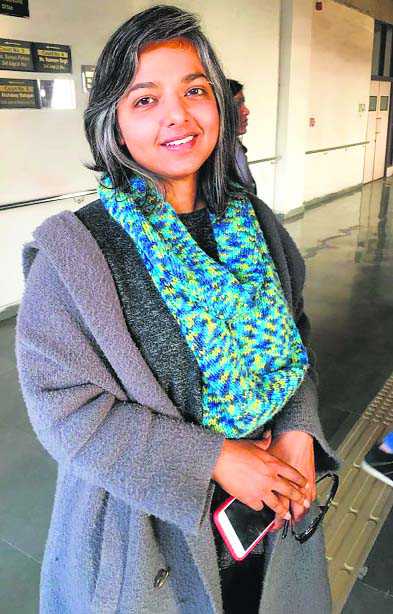 Ishrat S Banwait
Tribune News Service
Chandigarh, January 8
Records of calls made by Varnika Kundu, the complainant in a stalking case against Haryana BJP chief Subhash Barala's son Vikas Barala, on the day of the incident have belied her original statement.
As per her statement recorded in court, she had reached the inner market of Sector 8, Chandigarh, at 11.40 pm on August 4. However, her call records showed that she was in Chamkaur Sahib, Ropar, at 11.23 pm on the day.
Yet another contradiction came to the fore when she today stated that she was at her home in Panchkula before the incident and her driver dropped her in Sector 8. She stated this in response to a question posed by the defence counsel.
As per Varnika's call records, her location is shown to be in Chamkaur Sahib of Ropar at 11.23 pm on August 4, which is over 50 km from Chandigarh. However, her location at 12.33 am is in Sector 26, Chandigarh.
As per the call details, she was on call with her restaurateur friend in Manali, Anubhav Gurung, all this while. After the one hour, nine minute-call ended, she dialled '100' and called Gurung again immediately after.
Defence counsel Rabindra Pandit also pointed out in the court that Varnika was revising her statements.
For the first time during the trial of the case, Varnika Kundu admitted that an advocate was present in the Sector 26 police station during the wee hours of August 5 when her complaint was being written. Varnika today admitted to the defence counsel that RC Takoria was also present in the police station while her complaint was being filed. However, Varnika also said Takoria was her paternal aunt's husband and was present in the same capacity.
The defence counsel suggested to the court that Varnika was not present at the police station at the time, Varnika's father Virender Kundu wrote the complaint and also forged her signatures at the end of it.
The defence counsel told mediapersons that they would recommend that the CFSL tests the signature for its genuineness. Varnika's cross-examination will continue on Tuesday as well.