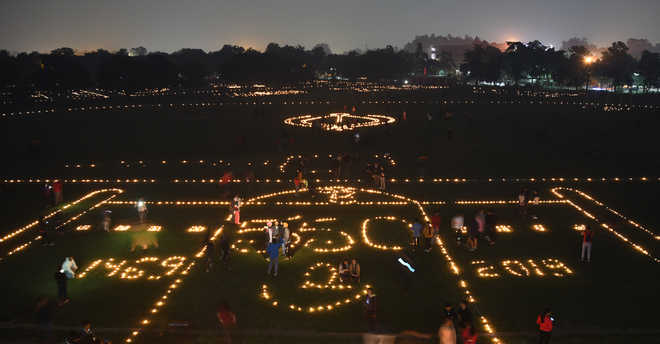 Tribune News Service
Chandigarh, November 12
Hosting a gamut of devotees on the 550th birth anniversary of the first Sikh guru and founder of Sikhism, Guru Nanak Dev, gurdwaras across the tricity were draped in the colourful net of lights, envisaging a splendid spiritual retreat.
While the locals set the pitch of religious fervour with 'prabhat pheris' or morning processions that resounded Nanak's message of peace, oneness and brotherhood in almost every street of the city, the Sikh shrines reverberated with hymns and shabad throughout the day. Thousands of visitors, together, savoured meals at community kitchen or langars organised at gurdwaras, adhering to Nanak's teachings on equality, as the volunteers took shifts to serve the 'sangat' (devotees). The growing rush, however, added to the traffic jams and parking problems.
Panjab University Gurdwara Sahib also celebrated the Parkash Purb today by organising an 'akhand path', kirtan, katha by eminent personalities. A blood donation camp was also held and more than 75 units of blood collected.
The Centre for Medical Physics, Panjab University, celebrated the Guru Nanak Dev's birth anniversary by showing a documentary on his life story to students. A seminar on medical physics was also organised at the centre in which alumni were invited to interact with students. Medical physicists Ramndeep Singh from Advanced Cancer Diagnostic Treatment and Research Centre, Bhatinda, Shefali Pahwa from the Homi Bhabha Cancer Hospital, Sangrur, and Gaganpreet Singh from the Department of Radiotherapy, PGIMER, Chandigarh, participated in the seminar and interacted with MSc (medical physics and nuclear medicine) students.
Over 10,051 diyas were lit at the sports ground of Panjab University by Directorate of Sports, PU. Prof Raj Kumar, Vice-Chancellor, along with Prof Shankarji Jha, Dean of University Instruction, Dr Parminder Singh, Director Sports, Prof Emanual Nahar, Dean, Student Welfare, Prof Ahluwalia, PU officials and hostel wardens were present on the occasion.
Top Stories