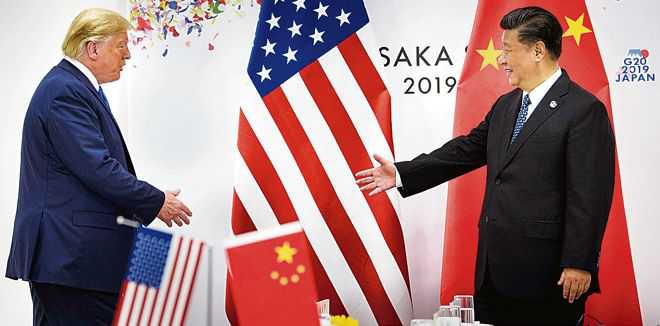 Jayadeva Ranade
President, Centre for China Analysis and Strategy
Notwithstanding the truce at the G-20 summit in Osaka (June 28-29) to suspend the imposition of trade sanctions against each other, the China-US relationship has changed fundamentally. An unbridgeable trust deficit will remain between the two for the foreseeable future. This will persist as China strives to share power on equal terms with the US as an arbiter of world affairs. In any event, there is little likelihood of relations between the US and China reverting to the earlier level. Both are now clearly on the opposite sides with competing aspirations and world views for global pre-eminence.
China's official media has painted the 80-minute meeting on June 29, between US President Donald Trump and Chinese President Xi Jinping on the sidelines of the G-20 Summit, as a positive development, "injecting much-needed confidence into world markets". It mentioned that some prohibitions against Huawei's purchases in the US, estimated at $11 billion, had been lifted. China Daily and Xinhua published editorials asserting that the focus had moved back from confrontation to dialogue, but together with the state-owned CCTV (China Central Television), did not underplay the tough negotiations that lie ahead. China's official media apparently deliberately avoided mentioning Trump's speech reiterating retention of restrictions on the purchase of dual-use technologies with national security implications. China's 'Made in China-2025' programme will, therefore, continue to face obstacles and the military-civil integration effort accelerated by Xi from last year will not ease.
Politically though, Xi has gained some respite and walked away from the meeting without Trump imposing additional tariffs. While Chinese officials and analysts assess this as temporary, a side-effect is that those in the Chinese leadership opposed to yielding concessions to the US will now feel vindicated. Pressure of the type being sought to be exerted on the US Administration by 'moderate' US academics and officials etc. will further encourage hardline elements in China.
Relations between the US and China have deteriorated since April last year. Their trade war escalated a sharp notch last month when Beijing imposed duties ranging from 5 to 20 per cent on a slew of goods exported to the US. China has also published a list of foreign entities that it describes as detrimental to Chinese companies and China's economic 'core interests'. China last used this term in 2011! Wang Shouwen, Chinese Vice Minister of Commerce and Deputy China International Trade Representative, minced no words in saying, "When you give them an inch, the US wants a yard." He added that the US insisted on 'unreasonably high demands' that crossed over into the area of 'intervening with China's sovereignty'. The same day, China issued a White Paper on the ongoing trade war — called by some the 'New Cold War' — and warned it is compiling a list of foreign entities that could harm Chinese economic interests. Days before the G-20 Summit, China warned it is getting ready to proceed against FedEx, a major American worldwide delivery company, for 'mistakenly' routing a package despatched by Huawei via the US, thereby rendering it susceptible to interdiction. Reflecting the mood, the authoritative People's Daily, in a toughly worded article on June 2, warned: "FedEx, no one can help you if you break the law!"
This confrontation initiated by the US is hurting China as it has come in the midst of a slowdown of China's economy. As a consequence of the trade war, exports from China to the US dropped by $15.2 billion, or 12 per cent, in the quarter of January to March 2019. Keeping the focus on China's technology sector, the US Commerce Department, on May 13, added six Chinese technology entities to the banned Entities List because they participated in the export of controlled technology, which was supplied to organisations affiliated with the People's Liberation Army (PLA). Indicating that Hong Kong, which had till now been treated as a separate entity, has come under the scrutiny of US agencies, four Chinese companies — Avin Electronics Technology Co Ltd, Multi-Mart Electronics Technology Co, Tenco Technology Co Ltd, and Yutron Technology Co Ltd — with offices in Hong Kong have been put on the banned list. A number of Chinese companies have been directly impacted. While the shares of China's technology giants Huawei and ZTE have dropped appreciably, the Shanghai-based Semiconductor Manufacturing International Corp (SMIC), whose revenue till March plummeted 19.5 per cent to $669 million and net profit plunged 58.2 per cent to $12 million, announced it will delist from the New York Stock Exchange.
The mood in Beijing is sombre, with the Chinese Communist Party (CCP) leadership assessing that this is not a trade war, but efforts by the US to stop China's 'rise'. People's Daily published nine strongly worded commentaries by senior party cadres between May 23 and 29 under its Zhong Sheng series accusing the US of arrogance and bullying. It published another four special commentaries between June 4 and 8, criticising the US politicians for their 'cold war' and 'trade protectionist' mentality. The CCP Central Committee's ideological theoretical journal Qiushi, on June 17, asserted that China would not give way on major principles in its negotiations with the US. It said: "China will not be afraid of any threats or pressure the US is making that may escalate economic and trade frictions. China has no choice, nor escape route, and will just have to fight it out till the end." The commentary added, "No force should underestimate and belittle the steel will of the Chinese people and its strength and tenacity to fight a war." Hu Xijin, editor-in-chief of the state-run Global Times, tweeted that the editorial represented "a further mobilisation of Chinese society" in the struggle against US trade pressure.
While for Xi Jinping personally, the suspension of tariffs has come as a temporary relief, this trade war with the US has come at a particularly inopportune time and put him and the CCP under increased pressure.
Top News
The accused ASI was nabbed by local people, who then handed ...
Two frontline combat aircraft of the IAF crashed during a tr...
Gandhi was accompanied by his sister and Congress general se...
The decision was taken after an independent investigation in...
SWAT team member Gursewak Singh later dies by suicide in Mog...