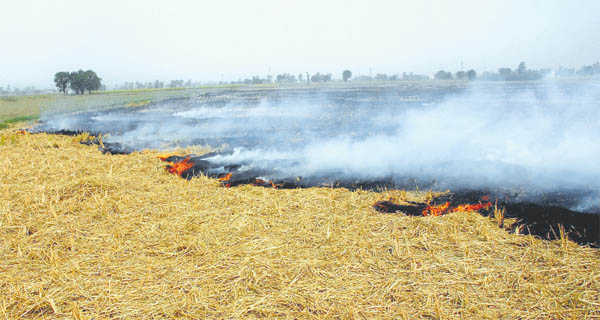 IN 2014, Delhi topped the list of the most-polluted cities in the world. Since then the focus on air quality in Delhi, and in India in general, continues. Delhi's odd-even scheme has had some impact on air quality and traffic congestion but no long-term solutions have been proposed. Although Delhi has lost the top spot in the latest rankings, according to a World Health Organisation report released this year, 16 of the 30 most- polluted cities in the world are in India.
Regardless of Delhi's status among the world's most-polluted cities, the quality of air we breathe is a nation-wide concern. With rapid urbanisation, and a fast-expanding economy, the demand for energy will continue to grow leading to further pressures on air quality.
Burning of agricultural waste in Punjab, especially paddy stubble, is a major seasonal source of air pollution in the NCR (and to a much greater extent in Punjab) in the winter months. Travelling through Punjab in November is like moving through dense fog, with very low visibility. It is estimated that every year over a million hectares of paddy stubble are torched in Punjab. This releases approximately 12 megatons of carbon dioxide into the atmosphere. NASA has been tracking this phenomenon and its satellite images show large chunks of Punjab to be on fire.
Air pollution has broader geographic ramifications because it respects no boundaries. It is a severe health hazard, causing respiratory problems and allergies. It also reduces visibility on the roads, resulting in traffic accidents and loss of life.
Paddy stubble burning diminishes agricultural productivity by increasing levels of carbon in the soil. The practice of leaving land fallow or using animal manure is almost defunct, leaving no options for regeneration of the soil. A drive through Punjab in March-April shows that farmers are now also burning wheat stubble. Farmers, unaware of the impact of these practices on their health andthe fertility of their land, cannot be expected to know of the much larger impact on air quality across and beyond the state's borders. Although the practice of stubble burning has been banned by the government, yet it goes on unabated. Farmers are constrained by both time and capital. There is a very short window of time between the rice harvest and preparing the land for wheat planting. Burning is fast and cheap, it kills weeds and pests. Besides, there is no economically viable alternative to burning.
There are options that the government can explore with immediate effect. First, the farmers need access to machinery that they can rent to plough the stubble back into the soil. This would recycle precious nutrients back into the soil. There are peak periods — lasting no more than a few weeks — during which this can be done. The machinery, therefore, has to be available in adequate numbers to allow farmers to clear the fields and ready them for the next sowing.
Second, options in technology also exist. One such is the Happy Seeder, a tractor-drawn implement that allows direct seeding of wheat into rice residues. In trials, it has been found to be more economical than traditional methods and also to improve yield. This technology can be introduced in a scalable pilot project area. Initially a central pool of tractors and Happy Seeders can be mobilised and free or subsidised service for direct seeding can be provided. Hiring local tractor owner operators and local drivers could have the added benefit of providing much-needed employment for Punjab's rural youth. Simultaneously, extension services can be strengthened through available resources such as from the Punjab Agriculture University. Once farmers see the benefits from the new process they will be weaned away from stubble burning and its harmful effects.
Subsidies can be gradually phased out as the economic benefits become apparent and the cost of technology comes down due to economies of scale and competition. It must be understood that the farmer in Punjab is under heavy financial stress as is evident from the spate of farmer suicides in the state and is no condition to adopt solutions that place an additional financial burden on him. Therefore, an enabling government intervention is critical.
Biomass plants using paddy stubble profess to provide an economically viable option to burning but they are too few in number and, despite touted potential, their commercial viability has not been established. Nonetheless, government must aggressively explore new technologies and Punjab can serve as an excellent starting point.
The air quality problem in India is also a problem of its energy systems. The challenge, in reality, is building a resilient energy system. The answer for our policy-makers is not picking one source of energy over another. Instead, the role the different fuels can play at different stages of development needs to be further examined. In the short term, to provide energy and not hinder economic growth, coal will be the most critical fuel, particularly if the highest priority is providing electricity to all. But if India is to build an energy infrastructure that is commensurate with its ambitions to limit greenhouse gas emissions, it must now begin to expand its natural gas infrastructure, along with aggressively pursuing opportunities in renewable energy
The writer, a former IAS officer, recntly retired from the World Bank.