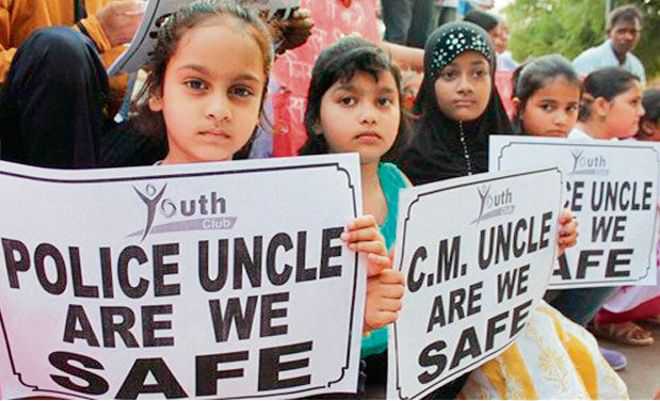 Prem Chowdhry
Author and academic, Delhi University
The Protection of Children from Sexual Offences (POCSO), passed in 2012, was amended recently. The 2012 Act had set up a Special Court to try out cases of sexual abuse of children below 18 years of age. Sentencing included probation or a prison term of up to five years as also a longer prison term for more serious cases. The recent amendment substantially increases the mandatory minimum sentence: for the rape of a child below 16 years, this imprisonment could be anything up to 20 years, while the maximum is 'imprisonment for life'. The amendment also provides for death penalty for aggravated penetrative sexual assault.
However, is this amendment right? Will it be able to serve its purpose for which it has been introduced?
Many feel that it severely compromises what it sets out to do on the following grounds:
The National Crime Records Bureau's (NCRB) Crime in India-2016 report reveals that 94.6 per cent of all cases registered under rape of children were committed by people known to the victim, such as immediate family, relatives, neighbours, employers/co-workers, or other known persons. The fear of the death penalty will serve as a pressure upon children and specially their family members and make them reluctant to report the matter and, in fact, even turn hostile, as the trauma and guilt of sending a relative or someone they know to the gallows can be onerous.
Such enhanced terms of imprisonment and introduction of death penalty will exert pressure on and deter a child and his family from registering an offence against a family member, relative, or known perpetrator, and hence will be counter-productive. Moreover, for death penalty to be implemented, very strict standards of proof are required. Searching questions have to be put to the child during examination, cross-examination, or re-examination. Children, especially those who are younger, cannot withstand direct questions by lawyers, which are invariably confusing, threatening and humiliating. Vandana Chavan, a BJP MP, rightly pointed out that "courts were not equipped to be either child-friendly or make the child comfortable to seek testimony." Now, it will be near impossible for the special courts to strictly apply any protection measure in view of the introduction of the death penalty because the basic requirement of such cases demands it.
The proposed amendment also fails to consider that a significant number of cases under the POCSO Act are of statutory rape, ie cases in which the victim is below 18 years and willingly engaged in consensual sexual activity. Studies conducted by the Centre for Child and the Law, National Law School of India University, in the states of Delhi, Assam, Karnataka, Andhra Pradesh and Maharashtra on the functioning of the special courts under the POCSO Act revealed that cases in which the prosecutrix admitted to a relationship with the accused amounted to 21.8 per cent in Karnataka (three districts), 23 per cent in Delhi, 15.6 per cent in Assam, 20.5 per cent in Maharashtra, and 21.2 per cent in Andhra Pradesh. The criminalisation of consensual sexual activity among or with adolescents aged 16-18 years has severe implications on their right to life, privacy, and health. The possibility of the imposition of death penalty in such cases in itself constitutes a grave violation.
What is required is a proper implementation of the POCSO Act, which is severely lacking, as is the proper investigation of the cases. Failure on the part of the police to collect relevant evidence, take statements of relevant witnesses, or collect forensic samples correctly, are some of the major lapses that affect convictions. Children are often exposed to the accused, and aggressive questioning of victims persists, resulting in victims frequently turning hostile, more so in the absence of any witness protection system. The identity of the child is routinely compromised. Neither support persons nor any form of orientation is made available to them about the trial.
A study conducted by HAQ: Centre for Child Rights, based on cases in which it provided services to children as support persons under the POCSO Act, revealed that in 26 per cent cases, children discontinued education after the incident. As much as 20 per cent of the children had to relocate their residence after the incident and 60 per cent of them had to move because of safety reasons. A survey of 100 survivors of rape/sexual assault survivors by the Delhi Commission for Protection of Child Rights revealed that one in three children who faced sexual abuse dropped out of school. Further, only 15 per cent of the survivors received compensation. A survey of 100 survivors of rape/sexual assault survivors by the Delhi Commission for Protection of Child Rights revealed that one in three children who faced sexual abuse, dropped out of school. Further, only 15 per cent of the survivors received compensation.
The death penalty undermines human dignity, which is the bedrock of the Universal Declaration of Human Rights, 1948, and the International Covenant on Civil and Political Rights (ICCPR), which has been acceded to by India in 1979. Article 6(2) of the ICCPR states that countries which have not abolished the death penalty may impose it only for the 'most serious crimes'. The Human Rights Committee, the treaty body responsible for the monitoring of the ICCPR, has unequivocally stated that "sexual offences, although serious in nature, can never serve as the basis, within the framework of Article 6, for the imposition of the death penalty."
Globally, more than 142 countries have abolished the death penalty either in law or by practice. Only 23 countries continue this practice, amongst which only 13 other countries at present have the death penalty for child rape, namely: Qatar, Bahrain, Jordan, Kuwait, the UAE, China, Cuba, Mauritania, Sudan, Tajikistan, Thailand, Tunisia and Vietnam. Considering that none of the countries mentioned are democracies, it is time to consider whether India, the world's largest democracy should align itself with this group of countries, or the lamentable human rights indices they represent. It may be remembered that the Justice Verma Committee on Amendments to Criminal Law, 2013, consciously and expressly refused to recommend death sentence for 'rape' by stating that it would be a "regressive step in the field of sentencing and reformation."
Child sexual abuse is indeed a very serious matter of concern. A society where the most vulnerable and innocent are routinely and gruesomely abused is indicative of a sombre situation that undoubtedly demands urgent intervention. The collective shame that we feel as a society should translate into collective responsibility towards our children. This can be achieved by ensuring that children are protected and supported when they courageously report sexual offences; child-friendly procedures are followed diligently; investigation and prosecutions are strengthened; and the necessary personnel, resources, and child friendly courtrooms are in place. More importantly, efforts towards the prevention of sexual abuse need to be intensified.