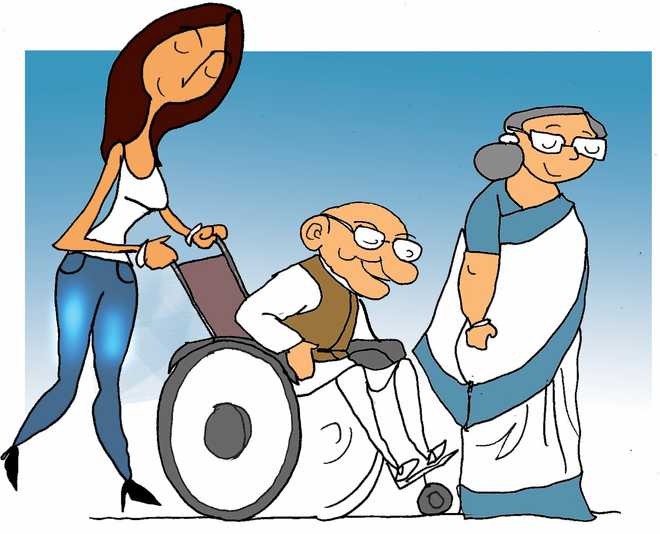 Aradhika Sharma
I paid a visit to my friend Archana and while we were sipping elaichi chai, Pari, her 4-year-old daughter walked in from school, flung down her bag and demanded that she be provided a brother.
"Why in the world do you want a brother, honey?" smiled Archana. "You already have a beautiful baby sister."
"Yes, but all my friends put a bindi on their brothers and they got money. I also want to put a bindi on a brother and get money."
"It's a tikka, honey, not a bindi and you can apply it on your little sister!"
"Are you allowed to do that?" little Pari enquired.
"Oh yes, absolutely! You can celebrate Behan Dooj with her."
"Will she give me money?" Little Pari clearly wanted the rewards policy firmly in place.
"I'm certain she'll give you lots of gifts when she grows up, sweetie. For now, will a chocolate cookie do?"
Little Pari acquiesced with a happy smile and we went through the
entire ritual with her highly resistant baby sister.
That got me thinking that while Rakhi and Bhai Dooj are two days dedicated to the celebrations of love between a brother and a sister, which is the day that celebrates the love between sisters? People (like me) who have sisters, but no brothers, tend to feel a little left out on such occasions wherein you can rejoice only if you have a male sibling. I'm sure women, even if we have brothers, would like to salute their female sibling as well. So, why isn't there a 'Behan Dooj' as well as 'Bhai Dooj' and why cannot the nation celebrate 'Sakhi' as well as 'Rakhi'? It couldn't be yet another example of patriarchy perpetuated by the system, could it?
The concept of Raksha Bandhan is mainly that of protection. The ritual of tying Rakhi on a brother's wrist symbolises the vow that the brother will look after the sister, which presupposes that the sister belongs to a (weaker) sex that needs patriarchal protection. In fact, all through history, the central role of women in society has ensured the stability, progress and long-term development of families and nations. In times when gender roles are getting increasingly blurred, they have stepped in to improve livelihoods and overall well-being of their families and take care of their parents in old age, a role that was traditionally assigned solely to males. Thus, it is only seemly that both the sexes be equally celebrated.
Society aside, I know for a fact that the way I can laugh with my sister — that unrestrained, unconditional, tears-pouring-down-the-face laughter — can be shared with no other. I know that it takes a sister to sense your anxiety, discomfort or pain. It is she who is privy to your deepest secrets and will spring to your defence and rescue even if you are completely wrong and even support you through your bad hair days by giving you her favourite hairband. More than just family, a sister is a forever friend.
So, sisters, Happy Behan Dooj!